How Wide Should a Snowboard Be?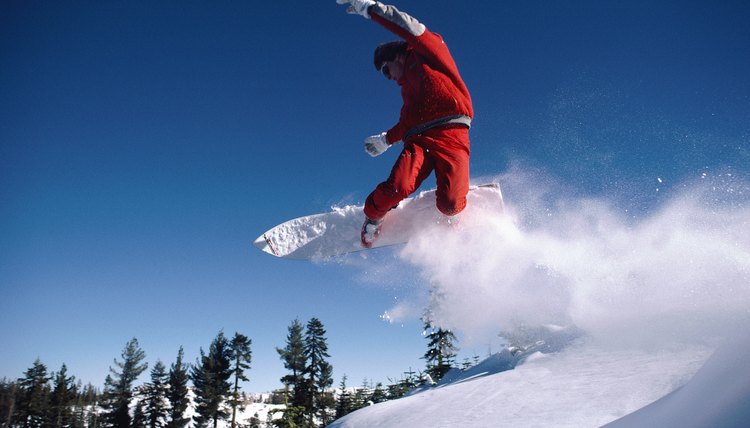 When choosing a snowboard, the width is just as important as the length. The length of the snowboard is generally sized based on your height and weight, while the width of the board is based on the size of your feet. Certain riders prefer a board with a slightly wider waist for increased stability in dense deposits of snow.
Boot Size
As opposed to measuring the length of your boot, simply place it perpendicularly on the top of the snowboard. If more than 1 inch of your heel hangs off, you may need to upgrade the size of the waist. The Shred-O-Pedia size guide recommends a 24-cm-wide snowboard for riders who have a boot size of 6 to 7.5. Select a 24.5-cm-wide snowboard if you have a boot size between 7.5 and 9.
Wide-Model Boards
Many top snowboarding companies offer specialized wide boards for riders with an above-average boot size. The wide waist helps to prevent overhang during sharp carves and hairpin turns. Snowboarders who have a boot size of 10.5 or more are recommended to ride a wide-model board. If you have a boot size that falls between 10.5 and 12, choose a snowboard that features a 26-cm waist width. Upgrade to a 26.5-cm snowboard if your boot size is between a 12 and 13.
Freestyle Boards
Freestyle or slopestyle snowboards often have a narrower waist than recreational models. The slender design of the freestyle snowboard helps to decrease the overall weight while increasing maneuverability. According to the 2011 Transworld Snowboarding Gear Guide, men's freestyle snowboards often have a waist width of around 25 cm. Youth model freestyle boards generally have a waist width of around 22 cm. The downsized waist of the freestyle snowboard functions well on the groomed surface of the terrain park.
Women's Boards
Women's snowboards are designed to accommodate the unique physical dimensions of the female body. When compared to the dimensions of the men's model snowboard, women's snowboards usually have a more petite design. The width of the women's snowboard generally ranges between 23 and 25 cm. Female riders who prefer to ride on an off-piste terrain use a snowboard with a wider waist. The waist of the women's powder board has a width that ranges between 25 and 26.5 cm.
Resources
Writer Bio
Philip Foster has been writing professionally since 2010. His work has been featured in the literary-arts magazine "The PEEL" and the weekly newspaper "The Mountain Xpress." Foster is an expert in various extreme sports. He cooked in a restaurant that offered organic and vegetarian cuisine for over three years. Foster received a Bachelor of Arts in creative writing from Appalachian State University.