What Is the Difference Between a Marathon & a Half-Marathon?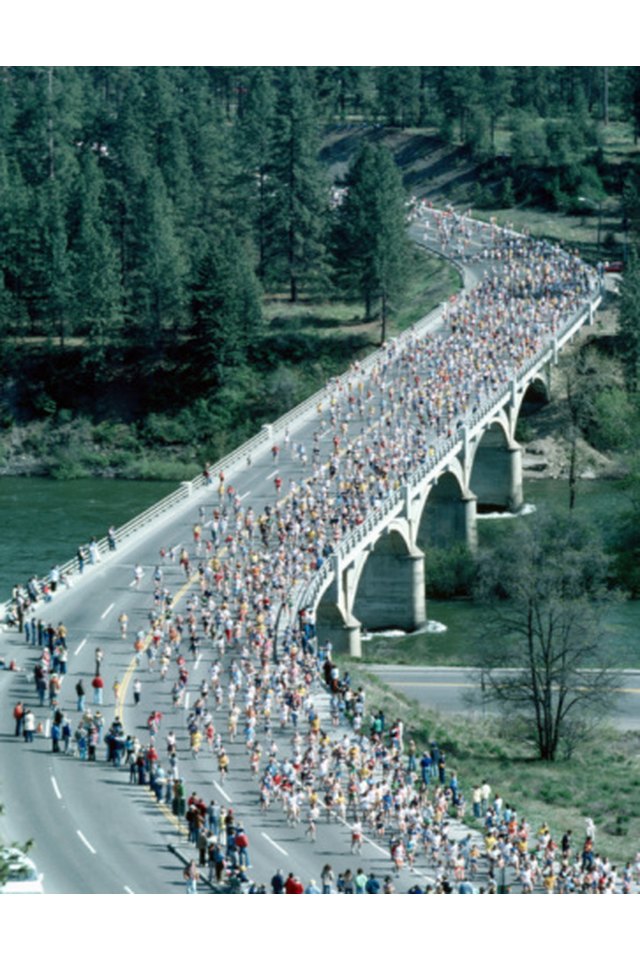 If you are thinking about signing up for a long-distance race, there are a number of factors to consider when deciding whether to do a half or a full marathon. Variables such as your time available to train, current fitness level, and motivation or desire to complete the race are aspects to think about when contemplating which distance to run.
Half and Full Marathons
When you sign up to run a half marathon, be prepared to cover 13.1 miles. For the full version, you will run 26.2 miles. The main difference between a half and a full marathon during the actual race varies depending on the race course. Many half marathons are part of a full marathon, and therefore the runners registered for the half will, at some point along the course route, head toward the finish line. Full marathon runners will continue for the last half of the race. If you are looking for a less-crowded option for a full marathon, consider a race that only offers the full 26.2 mile option.
Training Requirements
There are multiple training plans available to help you prepare for a half or full marathon. From online resources that have specialized training plans for beginning, intermediate and advanced runners to complete books that target novice runners, numerous options exist to let you select the training program that fits your lifestyle. The main difference between half- and full-marathon training is the time commitment. Although most training plans will have you run four days per week, the full marathon will require almost twice as many training weeks. Moreover, the runs will be significantly longer in the full-marathon training, extending the time it takes to complete each run.
Assess Current Fitness Level
Before deciding between a half or a full marathon, honestly assess your current fitness level. Ask yourself how active you are currently and how much effort it takes for you to run a mile. If you do not have a lot of running experience, starting off with the half marathon is an option that could lower your risk for injury. A more formal assessment by a personal trainer or other fitness professional could also help you decide which race might be best for your fitness level.
Determine Your Motivation
One of the most important components in a successful training program is your ability to stick with it. Ask yourself what factors motivate you to want to complete a half or a full marathon. These questions will help determine how likely you will be to consistently follow the training program and therefore successfully complete the race. Assessing your motivation will also help you decide which race — the half or the full marathon — aligns with your personal fitness and achievement goals.
References
Writer Bio
Alicia Fedewa is a psychology professor who has been writing since 2006. Her work appears in publications such as the "Journal of Pediatric Psychology" and the "American Journal of Occupational Therapy." Fedewa holds a Ph.D. in psychology from Michigan State University, as well as certifications from the National Academy of Sports Medicine and Aerobics and Fitness Association of America.