What does fact checked mean?
At SportsRec, we strive to deliver objective content that is accurate and up-to-date. Our team periodically reviews articles in order to ensure content quality. The sources cited below consist of evidence from peer-reviewed journals, prominent medical organizations, academic associations, and government data.
The information contained on this site is for informational purposes only, and should not be used as a substitute for the advice of a professional health care provider. Please check with the appropriate physician regarding health questions and concerns. Although we strive to deliver accurate and up-to-date information, no guarantee to that effect is made.
The Correct Walking Posture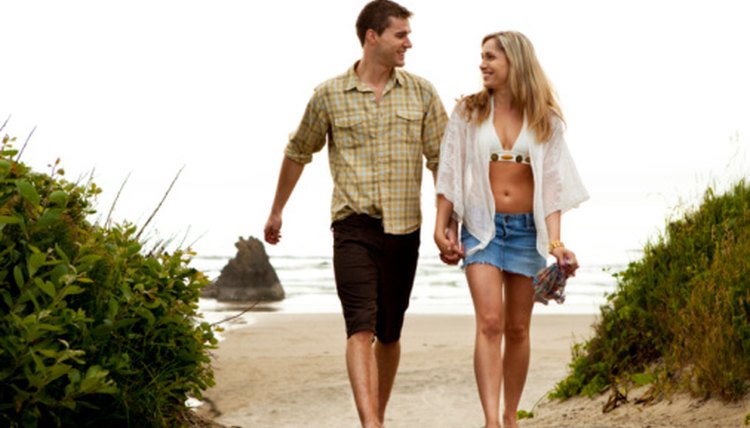 We do it daily, but rarely think about how our body maneuvers while we walk. The careful coordination of steps learned early in our toddler years becomes automated. But when an illness or accident forces us to relearn the process of walking with good posture, the difficulty of the task becomes apparent. A careful balance between muscle usage and coordination allows us to walk properly.
Natural Design
The natural design of the body makes walking effortless, according to neurologist Walter George Bradley. When we stand using correct posture, walking becomes a series of leans and falls, with each step catching the fall to balance the next step. The abdominal and gluteus muscles support the pelvis and all work together to establish posture as we walk.
Effects of Poor Posture
Poor walking posture occurs when the body becomes unaligned or injured. Typical posture faults include arching the back, thrusting the head forward and letting the arms dangle loosely. These issues cause your body's center of gravity to change, making movements less efficient. Good walking posture becomes difficult, if not impossible. Labored walking and pain are potential side effects.
Techniques for Good Posture
Maintaining a solid center of gravity leads to correct walking posture, making the movement nearly effortless. Signs of correct walking posture include a slight head bob as the body's center of gravity shifts during each step, according to the Dartmouth Medical School.
Muscle Maintenance
To consciously maintain proper walking posture, examine your muscles. The stomach and pelvic muscle should be tight and strong while walking. Abdominal exercises can strengthen this region. The curvature of the spine requires support when sitting. To help maintain good posture while sitting, you can use a lumbar support pillow, suggests the Cleveland Clinic.
Tips
To maintain a healthy gait with good posture, the Harvard Medical School recommends becoming aware of your technique. Your eyes should look 10 to 20 feet ahead of you, not down at the ground. This reduces neck and shoulder pain from poor posture. Each foot should land on its heel when stepping and spring into the next step with your toes first. Shoulders kept square -- not slumped forward or reclined back -- keep your spine in alignment, which promotes good posture and reduces chances of hip and lower back pain.
References
Writer Bio
Angela Tague writes marketing content and journalistic pieces for major brands including Bounty, The Nest, Lowe's Home Improvement and Hidden Valley. She also provides feature content to newspapers and writes health and beauty blogs for Daily Glow, Everyday Health and Walgreens. Tague graduated from the University of Iowa with a bachelor's degree in journalism and mass communications in 1999.