ODP Soccer Tryout Drills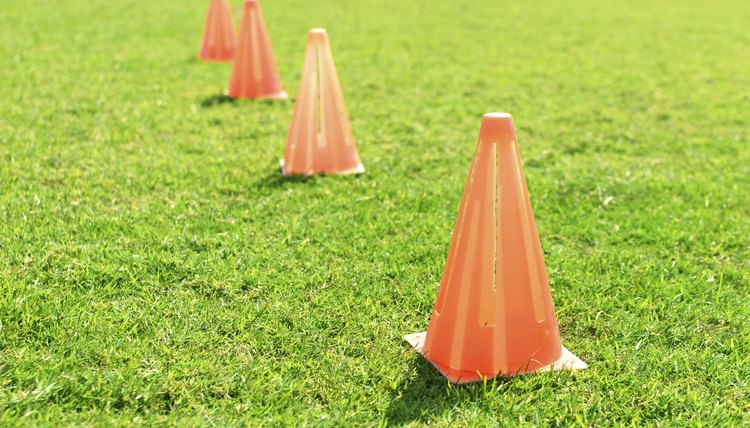 The Olympic Development Program sponsored by US Youth Soccer tries to identify young talent worthy of one day being on the U.S. men's and women's national teams. Players try out at the community level for a chance to attend district, state and regional camps, according to Jeffrey Sanderson in "An American Parent's Guide to Soccer." You'll need to succeed at higher tiers of tryouts if you hope to make it to the national team.
Small-Sided Games
ODP coaches rely heavily on putting field players on small teams, called "sides" in soccer, of fewer than 11 participants to evaluate skills. Teammates put on pinnies, or training vests, and may play on sides as small as two against one, six against six or in many other combinations. The players get multiple opportunities to touch the ball in a tryout setup similar to how pros train. The small-sided game is considered the bedrock of ODP, high school, club and college tryouts, rather than drills per se, which are more allied to training sessions.
Focus
You first need to make an ODP team pool at a local level and then try out again to make the game-day roster for larger tournaments, where you can be noticed by regional and national coaches. ODP coaches observe and evaluate players in a series of small-sided matches. "The purpose of doing those small-sided matches is to see who can work well with other players, who continually takes it upon themselves to be leaders and who stands out despite their surrounding players, in both a good and bad sense," says former ODP player Kristen Sample. A goalkeeper, Sample participated in ODP in Maryland and is a former All-American who plays competitive soccer in the U.S., England and Ireland, as of 2011.
Rapid Fire
Unlike field players, goalkeepers selected for ODP go through drills to see who will make the tournament roster. These include Rapid Fire, a drill designed to test the fitness and range of goalkeepers. Each keeper takes a turn in goal, where you face a rapid fire of both shots and crosses. Seven offensive players bring the ball down, including two wingers on each side who are also being tested on their quality of crossing. Three central strikers try to receive the cross and take a shot from the edge of the penalty box. The drill continues until all the strikers hit their shots. "It is pretty exhausting for a keeper, but you go in once and you are done," Sample says.
3 v. 2 v. 1
For this drill, place two goals on a relatively short field of 20 yards, with a keeper in each goal. "The keepers didn't really have to be assigned to a team, but you generally allowed the keepers to switch goals after a prescribed time, otherwise they'd always be facing the 3 v. 2 or the 2 v. 1," Sample says. Start with two players defending one goal. Three players from the opposite team attack the two defenders' goal. The person from the team of three who shoots or loses the ball immediately becomes the defender "1." The two players who were previously defending are now on the attack, while the two remaining players from the original three stay as the next two defenders at the goal they were just attacking. "Since this drill involves small numbers, it conveys to the coaches which players are very good at working off the ball, which players are capable of thinking quickly while they're on the ball and which players have confidence in their attacking and defending abilities," Sample says.
References
Kristen Sample; Soccer Goalkeeper; Columbia, Maryland
Writer Bio
An award-winning writer and editor, Rogue Parrish has worked at the Washington Post, the Baltimore Sun and at newspapers from England to Alaska. This world adventurer and travel book author, who graduates summa cum laude in journalism from the University of Maryland, specializes in travel and food -- as well as sports and fitness. She's also a property manager and writes on DIY projects.