Tom Brady: His Football Career and Super Bowl Victories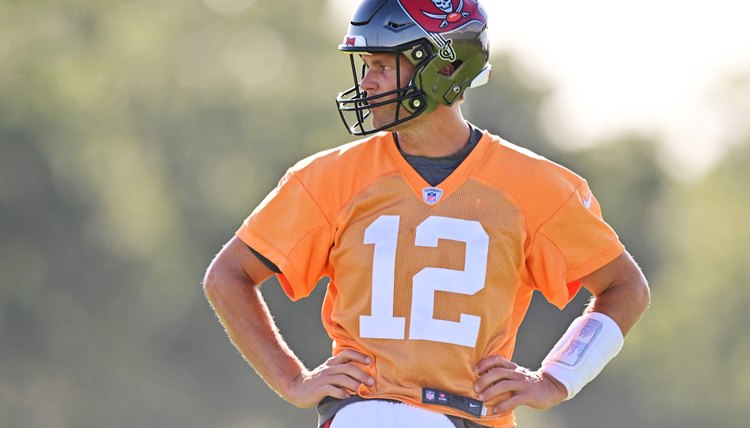 With multiple Super Bowl wins and NFL Most Valuable Player awards, along with other accolades, Tom Brady has built himself as one of the league's best quarterbacks. From his start as a sixth round pick by the New England Patriots to his new team, the Tampa Bay Buccaneers, he has found success at every level and still continues to do so into his mid-forties. Brady has broken nearly every quarterback record in his long career, making him a clear favorite for the GOAT conversation. With such an expansive career it's hard to keep track of his many achievements, records, and even a few controversies. Here are a few facts and frequently asked questions about National Football League quarterback Tom Brady.
Where is Tom Brady from?
Tom Brady was born on August 3, 1977 in San Mateo, California to his parents Galynn Patricia and Thomas Brady Sr. He was raised alongside his three sisters, Julie, Maureen, and Nancy. He grew up a huge San Francisco 49ers fan and took inspiration from Hall of Fame quarterback Joe Montana. He even attended the 1981 NFC Championship Game, inspiring him to play quarterback during youth football. Brady would go on to attend Junipero Serra High School and made waves as a blue chip prospect in football and baseball. He was so good at baseball that he was drafted out of high school by the Montreal Expos in the 18th round. However, when Brady was recruited by the University of Michigan to play college football, he decided to become the Wolverine's new quarterback.
When was Tom Brady drafted?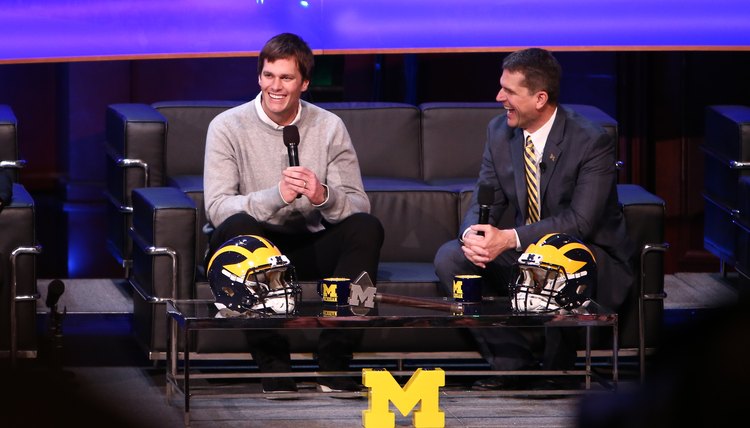 SportsRec
Tom Brady was drafted in the 2000 NFL draft after playing four years at the University of Michigan. He would be the starting quarterback for the last two years and would collect wins at the Citrus Bowl and the Orange Bowl, finishing in the top five for multiple university records and becoming one of the most iconic American football players in university history. In spite of this, Brady would be drafted late in the NFL draft falling to the sixth round. This was due to his unimpressive physical attributes, disappointing results at the NFL combine, and unassuming college resume.
When did Tom Brady become a NFL starter?
SportsRec
Brady spent the entire 2000 NFL season on the bench due to his fourth place position on the Patriots depth chart. Brady would rise up the depth chart and become the backup to starter Drew Bledsoe in the 2001 preseason. In the 2001 season, Bledsoe would get injured in a Week Two game against the New York Jets and was replaced by Tom Brady. Brady would start the next game and Bledsoe would never start a game for the New England Patriots again. Brady would win eleven of his fourteen starts in 2001 and make the Pro Bowl.
He would continue his winning ways into the playoffs making Super Bowl XXXVI against the St.Louis Rams. He would win Super Bowl MVP after leading a game winning drive late in the fourth quarter with the game knotted at 17. He was the youngest QB in NFL history to win a Super Bowl and the youngest to win SB MVP.
How many Super Bowls does Tom Brady have?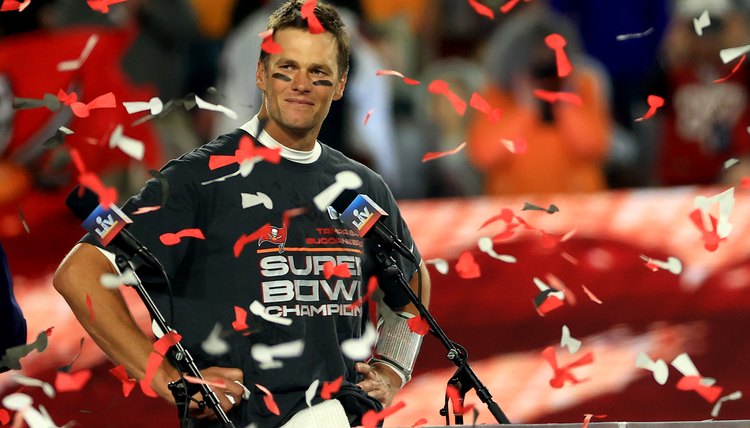 SportsRec
Brady has many NFL records but his most impressive accomplishment is his seven Super Bowl wins won over the course of his 20+ year NFL career. After beating the Rams in Super Bowl XXXVI, he would lead the Patriots to back to back Super Bowls. He would win the first against the Carolina Panthers in Super Bowl XXXVIII and the Philadelphia Eagles in Super Bowl XXXIX. He would lead the Patriots to an undefeated season in 2007, becoming the first since the 1972 Miami Dolphins to do so, but would lose to the underdog New York Giants led by Eli Manning in Super Bowl XLII.
After a knee injury and another loss to the Giants, Brady would break the drought by beating the Seattle Seahawks in Super Bowl XLIX. He would complete the biggest comeback in Super Bowl history in LI beating the Atlanta Falcons after being down 28-3 in the third quarter. He would win his sixth and final ring with the Patriots in Super Bowl LII and would give the Buccaneers their second Super Bowl ring in Super Bowl LVI. All in all, Brady went 7-3 in his ten Super Bowl appearances and would win five Super Bowl MVP awards, an NFL record.
What records does Tom Brady have?
SportsRec
Tom Brady is also known for having many NFL records, from Super Bowl MVPs to touchdowns. Brady owns many quarterback records such as most career completions, touchdown passes, passing yards and passing attempts. He has won the most Super Bowls and Super Bowl MVPs of any player and also holds the record for longest winning streak. He is also one of three NFL players to win the AP Male Athlete of the Year award and the oldest to win NFL MVP. He also is the only QB to have two separate streaks of one hundred starts.
What was Deflategate?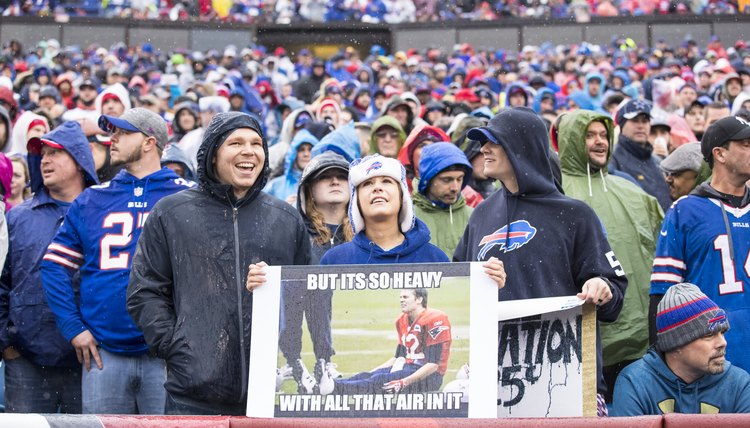 SportsRec
Deflategate was a cheating scandal that involved Tom Brady and the New England Patriots in the 2014 AFC Championship Game against the Indianapolis Colts. In the first half, It was found by NFL referees that the Patriots were using balls that were below the required PSI, with one found to be two PSI below the minimum limit. The balls were fixed at half and the Patriots would score 28 unanswered to beat the Colts and advance to Super Bowl XLIX. It was found that this was deliberate and that Brady had communications with various equipment managers to make this happen. Due to the tampering with the balls, Brady was suspended in 2016 for four games.
Who is Tom Brady's wife?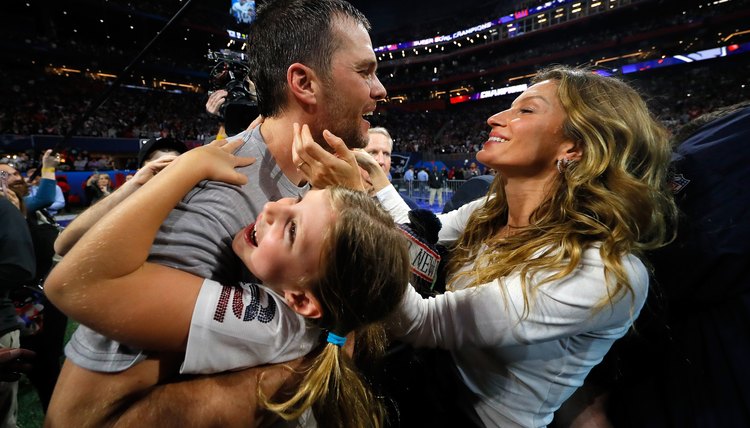 SportsRec
In 2009, Tom Brady married Brazilian model Gisele Bundchen after three years of dating. They began dating in 2006 after Brady broke up with actress Bridget Moynahan with whom he has a baby with, John Edward Thomas Moynahan. He and Bundchen have two kids, Vivian Lake Brady and Benjamin Brady.
References
Writer Bio
Lyle Stefanavich started writing professionally in 2005. His work has appeared in the "Olivet College Echo," "Battle Creek Enquirer," "The South End Newspaper," TellUsDetroit.com, "Warrior Within Magazine," "Dearborn Press and Guide," Dethoops.com, CSTV.com, and UCSHO.com, among other publications. Lyle holds a Bachelor of Science in finance from Wayne State University and is pursuing his Master of Business Administration.