Dryland Exercises for Swimming Without Weights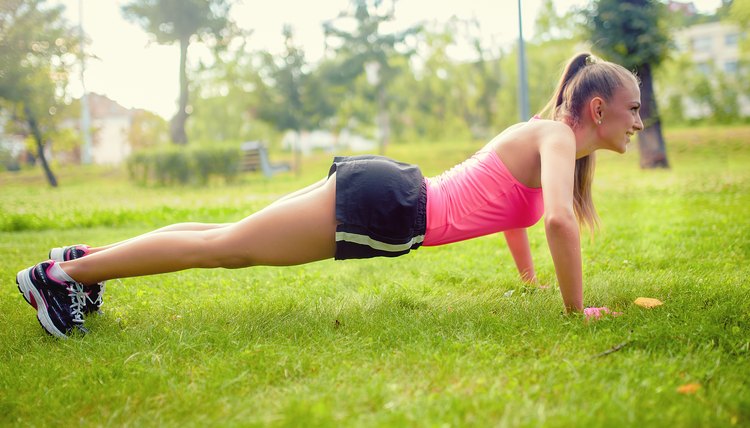 You may not think of swimming as a strength sport, but improving your muscle strength can improve your performance in the pool. Even if you're satisfied with your swimming speed, you'll be impressed with the endurance and pace increases you can attain when you incorporate dryland exercises into your training regimen. You don't have to use weights to see results; you'll benefit from exercises that use only gravity and your bodyweight to provide resistance.
Essential Muscles to Focus On
You use your entire body when you swim, making it a full-body activity. That makes it essential to work all your muscle groups instead of focusing on one or two body parts. Starting from the ground up, swimming recruits your ankles, legs, quads, hips and glutes. Then your core transfers that explosive energy from your lower body to propel you through the water to assist your arms, back and shoulders.
Beneficial Exercises
Leaving weights out of your dryland swimming training doesn't limit the number of exercises at your disposal. Perform pushups, situps, box jumps, Planks, bodyweight or wall squats and rope climbs. Don't leave out a dryland cardio element, either. You get an effective aerobic workout in the pool, but biking, jumping rope and running stairs will help with conditioning and improve your endurance.
Frequency of Dryland Training
Swimmers typically train in the pool five to six times a week. Incorporate dryland training into hree or four of those training days during the off-season. The focus will shift once the competition season starts, with dryland training dropping to two to three times a week so that the time that's freed up can be spent training in the pool.
Circuit for Efficiency
Few swimmers have the luxury of scheduling their lives around swimming workouts. With so much time spent in the pool and on your school and work life, it may not seem possible to include time for dryland training. But if you perform your dryland exercises as a circuit, you can complete a full-body workout in 20 to 30 minutes. Select six to 10 exercises and perform each of them for 20 to 30 seconds with no rest period in between, then take a one to two minute rest before going through the circuit again. Doing a circuit adds a cardio component to your resistance training. To add more cardio, include 30 seconds on the stationary bike, jogging in place or jumping rope.
References
Writer Bio
Elle Di Jensen has been a writer and editor since 1990. She began working in the fitness industry in 1987, and her experience includes editing and publishing a workout manual. She has an extended family of pets, including special needs animals. Jensen attended Idaho and Boise State Universities. Her work has appeared in various print and online publications.