Interesting Facts on Flag Football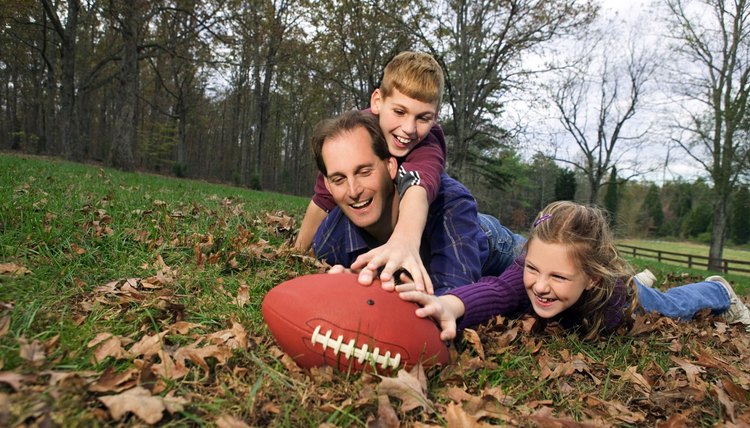 In flag football, players wear four or more flags attached to a belt. Ball carriers are not tackled; they are "down" when one of these flags is pulled off. Flag football fields measure 70 yards by 30 yards for youth and 80 yards by 40 yards for older players. Starting from a team's five-yard line, players have three downs to cross midfield or score. Three extra downs are awarded once midfield is crossed. The ball changes hands when teams fail to cross midfield or score.
History
When English student William Ebb Ellis picked up a soccer ball in 1823 and ran with it, he broke all the rules of an Ancient Greek game, "harpaston." He also planted the seeds for modern British football. Later in the same century, British football splintered into rugby and soccer. In the U.S., a rougher game was played on college campuses after the Civil War. This rugby-like game became the forerunner of American football. The first organized flag football is thought to have been played in the 1930s. The sport became popular on military bases in the 1940s, and recreational leagues followed shortly thereafter.
Youth
NFL Flag Football is a youth football league for boys and girls that are 5 to 17 years of age. The NFL launched a flag football program in 1996 to educate kids about football while emphasizing sportsmanship and teamwork. Teams must field a minimum of four players during regular play and five players during tournaments. Touchdowns are worth six points and extra point conversions score one or two points. Teams may be co-ed, all boys or all girls. The point values for scores do not vary by gender.
College
The National Intramural-Recreational Sports Association is the governing body for recreational sports at U.S. colleges. NIRSA rules for flag football indicate that teams can be co-ed or single-gendered. They require anywhere from four to eight players. Flag football rules from Indiana University South Bend state that teams must have at least five players and are allowed seven, one of whom must be female. If a team can't field a woman, only six players are allowed to take the field. The number of points earned depends on gender. A touchdown by a female scores nine points, while males' touchdowns earn six points. Female conversions are worth twice as many points as males' conversions.
Adults
The U.S. Flag Touch Football League was formed in 1988 and hosts the largest non-college tournament in the nation. It drew 175 teams and crowned 11 national champions its first year. A semi-pro league was formed in the early 1990s and joined up with other organizations to form the Professional Flag Football League, Inc. in 1997. The PFFL played the first pro travel schedule in 1999, with teams in Buffalo, Cleveland, Columbus, Dayton, Toledo and Indianapolis. The league folded shortly after its inception. In 2011, FlagFootball.org reports that more than 20 million players participate in flag football leagues.
International
Flag football is played worldwide, and the International Flag Football Federation is the national governing body for flag football. The 2009 IFFF World Cup included 15 countries. The NFL FLAG National Tournament of Champions for youths is also held annually. The 2011 championship drew more than 300 athletes playing for 24 U.S. and 8 Mexican teams.
References
Resources
Writer Bio
A.G. Moody is a multiple award-winning journalist who has been writing professionally since 2000. He has covered everything from business to health issues. His work has appeared in the "Milwaukee Journal Sentinel" and numerous other newspapers and magazines. Moody earned a Bachelor of Arts in journalism from Eastern Washington University.