Four-Person Scramble Golf Rules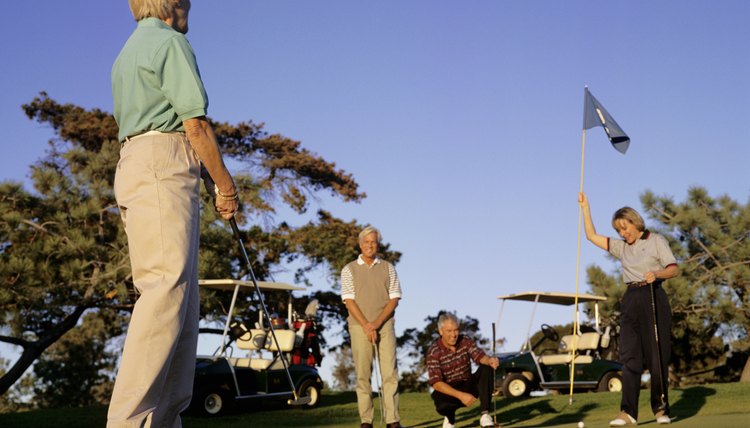 Four-person team scrambles in golf focus on the foursome as a whole and downplay individual play. No individual scores are recorded in a scramble. However, all four players can contribute valuable shots to the group effort on every hole. Scrambles encourage players of all abilities to play together and tend to be social in nature. Many charity tournaments are conducted in scramble form, and modified forms of scrambles are played during the professional-amateur events at many PGA Tour and LPGA Tour stops. Basic rules govern most scrambles, and you'll find many variations, as well.
Drives
Each of the four players tees off. The team selects the best tee shot of the four. The other three players pick up their balls. Some scramble formats require that the team use at least one drive from each player every nine holes. Others specify that three drives from each player be used during the entire 18 holes. These variations inject an element of strategy into the event, prevents excellent players from totally dominating the competition and ensures that every player contributes to the final team score.
Fairway Shots
After selecting the best drive and marking it, each of the four team members hits a second shot from within one club length of the marker. The one-club-length rule ensures that you won't be hitting from divots your fellow team members create. If the ball is not on the green after the second shot, the procedure stays the same. Select the best of the four second shots, mark the ball and have all four team members hit the next shot.
On The Green
When your team has selected and marked the best shot on the green, the other players pick up their balls. All four then putt from the spot that has been selected. If one team member makes the putt, you are done with the hole. If no one on your team sinks the putt, you select the best putt and repeat the same procedure.
Rules and Variations
Many scrambles have a mandatory double-bogey rule setting a maximum score on a hole at two strokes above par. If you have reached that point, everyone picks up his ball and heads to the next hole. Some scrambles allow a maximum of two putts per green, unless you will be putting for par after hitting the green in two on a par five. Some scrambles add in an individual component for long drive or closest to the pin on a par three.
Writer Bio
Jim Thomas has been a freelance writer since 1978. He wrote a book about professional golfers and has written magazine articles about sports, politics, legal issues, travel and business for national and Northwest publications. He received a Juris Doctor from Duke Law School and a Bachelor of Science in political science from Whitman College.