What does fact checked mean?
At SportsRec, we strive to deliver objective content that is accurate and up-to-date. Our team periodically reviews articles in order to ensure content quality. The sources cited below consist of evidence from peer-reviewed journals, prominent medical organizations, academic associations, and government data.
The information contained on this site is for informational purposes only, and should not be used as a substitute for the advice of a professional health care provider. Please check with the appropriate physician regarding health questions and concerns. Although we strive to deliver accurate and up-to-date information, no guarantee to that effect is made.
Biceps to Triceps Strength Ratio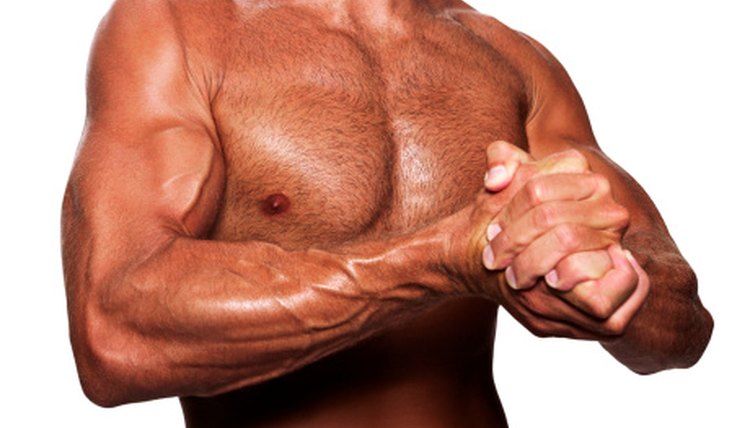 Developing strength in the various muscle groups in the.proper proportions is an important element of an effective exercise training program. When performing resistance training exercises for developing arm strength, you should try to achieve an approximate 1:1 strength ratio in the biceps brachii and triceps brachii.
Antagonistic Pairs
Your musculoskeletal system consists of antagonistic pairs of muscles responsible for movement at each joint. An antagonistic pair is one in which each muscle's action directly opposes that of iounterpart. For example, the biceps brachii and triceps brachii muscles have the opposing acts ctions of flexing and extending the elbow, respectively. In a similar fashion, the quadriceps and hamstring muscle groups of the leg form an antagonistic pair and, respectively, extend and flex the knee joint.
Balancing Pair Strength
When developing an exercise program that includes resistance training for strength gain, it is important that you plan exercises to work both muscle groups of each antagonistic pair. This would require an exercise program that trains both your biceps and triceps, your quadriceps and hamstrings, and your abdominal and lower back muscles all in the proper proportions.
Unbalanced Pair Dangers
Since each antagonistic pair of muscles works collectively on a single joint, the efficient functioning of each joint and limiting the risk of joint injury requires achieving the proper strength balance. For example, if the quadriceps muscle group on the front of your thigh becomes too well-developed and strong relative to the hamstring muscle group on posterior, or back side, the unequal forces created can increase the risk of knee joint injury.
Recommended Balance Ratios
According to the fitness website BrianMac Sports Coach, the ideal strength ratio for the biceps and triceps should be 1:1, that is to to say that if you can curl a maximum of 60 pounds using your biceps you should be able to perform a triceps push-down with 60 pounds. For the quadriceps and hamstring muscles, you should try to achieve a strength ratio of 3:2.
References
Writer Bio
A professor of allied health science and member of the American College of Sports Medicine, Warren Rosenberg has been writing since 1979 on topics including health and fitness. His works include the college textbooks "Exercise Science" and "Integrated Science." As a professional photographer, he provides photographs to textbook publishers, magazines and websites. He holds a Ph.D. from New York University.