Importance of Sports to Health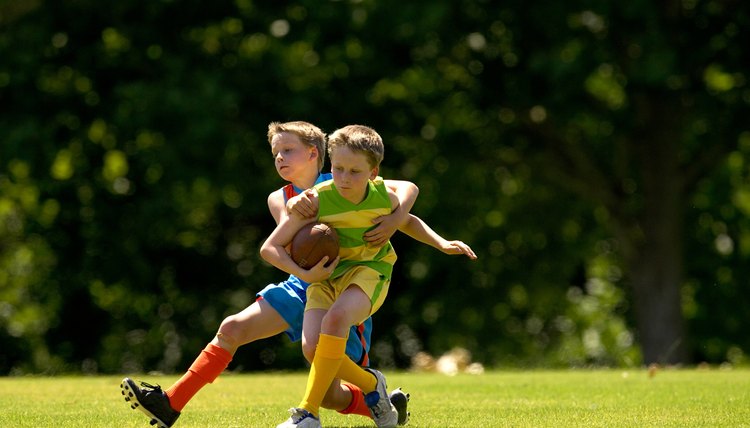 Whether it's a pickup game of basketball or an organized water polo league, playing sports can make you healthier and happier because of the physical activity involved. Playing sports contributes to muscle development, coordination, cardiovascular health and numerous other benefits associated with disease prevention; physical activity can help ward of chronic diseases including cardiovascular disease, diabetes, cancer, hypertension, obesity, depression and osteoporosis, according to Sport and Development.org.
Sports and Special Populations
Playing sports can help children develop healthy bones, stronger cardiovascular systems and powerful lungs, according to Sport and Development.org. Child athletes also develop motor skills and cognitive skills. Being physically active as a child makes it more likely to continue playing sports as an adult, promoting lifelong health, according to the United Nations. Among women, sports can help prevent osteoporosis and hip fractures. Older citizens who play sports have opportunities to keep their bodies moving, feel independent and socialize with others in a healthy way.
Getting Physical
Playing sports can help people achieve fitness goals related to weight loss, muscle development and fat reduction because of the physical activity involved. Children who play sports are less likely to experience childhood obesity. Physical activity is associated with hormone regulation and strengthening the immune system, according to True Sport.org.
In the Body, In the Mind
It's not just your body that benefits from sports. Playing sports contributes to mental health, helping to prevent depression and increase self-esteem and body image, according to Sport and Development.org. Individuals who participate in sports might also benefit from the social aspect, developing friendships with teammates and feeling part of a group. Children can learn positive mental health skills including accountability, leadership and dedication, according to the University of Missouri Children's Hospital. Playing sports is a key strategy for reducing stress, because your body releases feel-good endorphins while exercising.
Different Sports, Different Benefits
Some sports are associated with particular health advantages. For example, bowling can help achieve greater bone density because of the frequent heavy lifting, according to the Mother Nature Network. Fencing might help ward off cognitive decline, given the complex thinking associated with this sport. People who play volleyball benefit from increased hand-eye coordination and flexibility. Ping-pong also helps players increase hand-eye coordination, while also promoting better brain health because of the fast thinking involved.
It's a Lifestyle Thing
Another reason that sports are important for health is that participating in sports can encourage positive lifestyle decisions. For example, if you belong to a recreational rugby league, you might spend your evenings and weekends practicing with your team rather than stopping for a cocktail after work or ordering greasy happy hour food.
References
Writer Bio
Morgan Rush is a California journalist specializing in news, business writing, fitness and travel. He's written for numerous publications at the national, state and local level, including newspapers, magazines and websites. Rush holds a Bachelor of Arts from the University of California, San Diego.