How to Put On Golf Straps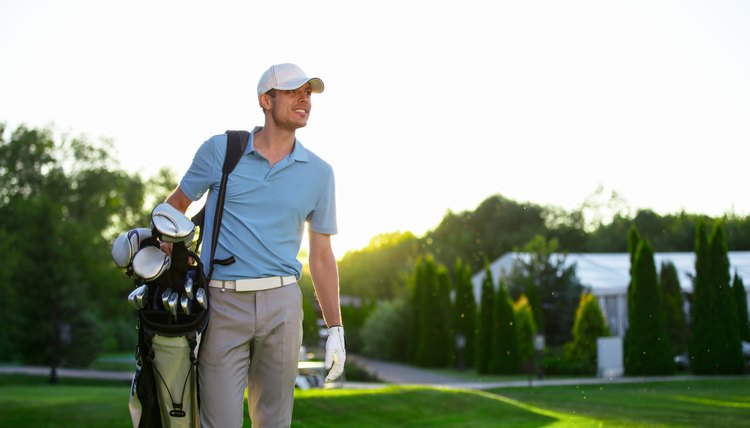 A golf strap is a necessity for using a carry golf bag around a course. Although many bags are sold with the straps attached, they can break and wear out over time, and you may decide you want to use a different type of strap. Although attaching a strap is easy, it must be properly adjusted to avoid back strain.
Remove the strap from the packaging and unfurl the strap onto a flat surface. Straps have one thick padded end with a clip and another narrower, unpadded end with its own separate clip.
Clip the padded end of the strap to the ring at the top of your golf bag. This part of the strap hangs over over your shoulder and bears the brunt of the bag's weight.
Clip the narrow, unpadded end of the strap to the ring near the bottom of the bag. The second ring is sometimes located on the front of the bag and sometimes on the side, but it will attach to either location in the same way.
Slip the bag on with the padded end of the strap over your shoulder to determine if it's adjusted properly. The center back pad of the golf bag should align with the lower lumbar region of your back to prevent back strain. Adjust the length of the strap as needed. Some models even allow you to adjust the strap length while walking.
Tips
Single-strap bags are less expensive, but double-strap bags, worn more like a backpack, are also popular. Attach the two straps to a double-strap bag in the same way as with a single-strap bag, one on the left side and the other on the right.
References
The Golf Bag Book; Scott Martin
How I Play Golf; Tiger Woods
Writer Bio
Bonnie Singleton has been writing professionally since 1996. She has written for various newspapers and magazines including "The Washington Times" and "Woman's World." She also wrote for the BBC-TV news magazine "From Washington" and worked for Discovery Channel online for more than a decade. Singleton holds a master's degree in musicology from Florida State University and is a member of the American Independent Writers.