Diamond Formation in Soccer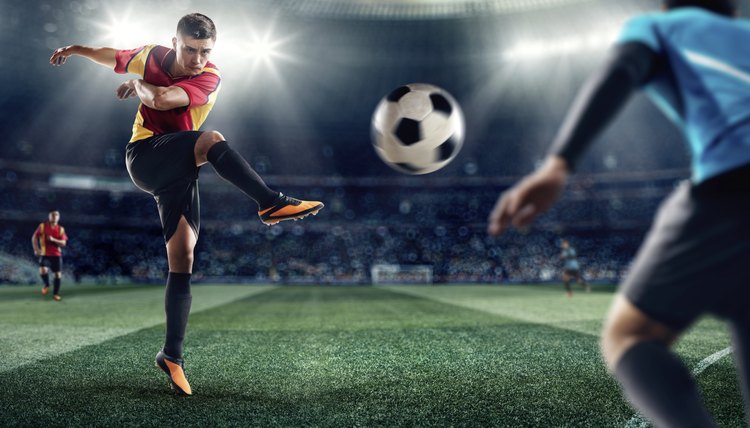 The diamond formation is an adaptation of the standard 4-4-2 soccer formation. The team lineup features four defenders, four midfielders and two strikers, but the positioning of the midfield four breaks with the traditional 4-4-2 deployment.
The Diamond
The "diamond" refers to the positioning of the four midfielders. Rather than featuring a flat four-man midfield, the formation uses one advanced attacking midfielder, one deep defensive midfielder and two narrow wide midfielders or wingers. In essence, the diamond formation is a 4-1-2-1-2 formation.
Tactical Deployment
Coaches can use the diamond formation as either an attacking or a defensive option. The role of the midfielders is crucial in deciding the team's overall style of play. You sometimes will see the diamond formation labeled as a 4-1-3-2. This emphasizes the attacking role of the team, with one holding midfielder providing defensive stability behind three attacking midfielders. Alternatively, a 4-3-1-2 diamond suggests a more conservative approach, with one defensive midfielder supported by two wide midfielders. This approach gives greater control of the central midfield area and provides extra protection of the defensive line, but the one attacking midfielder can become isolated.
Advantages
The diamond formation provides a solid platform through the center of the field. The staggered diamond in the midfield allows the team to keep possession of the ball with intelligent player movement and good short passing. A coach also can use the formation to play to the strengths of his team. He can place his star attacking midfielder in an advanced position directly behind the two strikers, a role that the standard 4-4-2 does not accommodate quite so easily. The diamond formation also is ideal for a team that does not have strong wingers, allowing the team to concentrate on the middle of the field.
Disadvantages
The main disadvantage of the diamond formation is a lack of width. The advanced attacking midfielder and the deep defensive midfielder leave gaps in the center of the field. The two remaining midfielders, who traditionally would be on the flanks, must therefore move slightly infield to plug the gaps. This results in a narrow formation, limiting wing play and making it difficult to get behind the opposing fullbacks to swing in crosses. One solution is to use attacking fullbacks or wingbacks to give width to the team. This, however, leaves gaps in the four-man defense, placing greater pressure on the central defenders and the lone defensive midfielder.
References
Writer Bio
Anthony Grahame has been a writer for more than 15 years. He began writing professionally online in 2008. He has a degree in English literature from the University of Sussex and is an experienced traveler and travel writer. His work has been published on a variety of well respected websites including "Living in Peru".