How to Play a 3-2-3-2 Formation in Soccer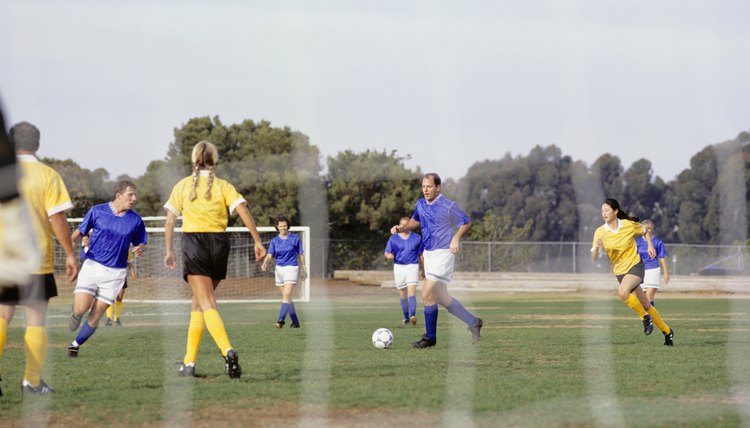 The 3-2-3-2 soccer formation features two strikers up front, backed by an attacking midfielder and right and left midfielders. There are two defensive midfielders, then a back line of two center backs and a sweeper. This is a balanced alignment coaches can use for beginning teams, featuring four rows of players. It can become an aggressive offensive scheme at the highest levels, which is why FC Barcelona coach Luis Enrique explored it for his talented team.
Two Center Backs, Sweeper
Playing on the on the back line in this formation requires the ability to react quickly and run fast. As one of three backs, you must cover more field than you would as part of a four-player unit. If you are playing as an outside back in a more aggressive 3-2-3-2 scheme, you may have the freedom to take runs up your side while the defensive midfielders slide back to cover.
Defensive Midfielders
As part of the "double pivot" in the defensive midfield, your role is to cut off passing lanes, thwart the counter attack, control the ball for your side and send the play back with sharp passes. In an aggressive version of the 3-2-3-2, you may drop back and cover in some scenarios to allow the wide players to attack when your team has possession.
Left, Center and Right Midfielders
In the 3-2-3-2, the attacking midfielder supports the two strikers. If you are playing in the middle of this "3", your job is to build offensive plays and join the attack. You must be ready to drop back into more of a 3-5-2 formation on defense to clog up the middle of the field with the other four midfielders.
Strikers
At top of this formation you have an opportunity to create pressure, especially when the attacking midfielder pushes forward to join you and your fellow striker. Your job is force mistakes by the opposing backs and convert opportunities into goals.
References
Writer Bio
Jeff Gordon has been reporting and writing since 1977. His most recent work has appeared on websites such as eHow, GolfLink, Ask Men, Open Sports, Fox Sports and MSN. He has previously written for publications such as "The Sporting News" and "The Hockey News." He graduated from the University of Missouri-Columbia School of Journalism in 1979 with a bachelor's degree.