Junior Golf Clubs Vs. Ladies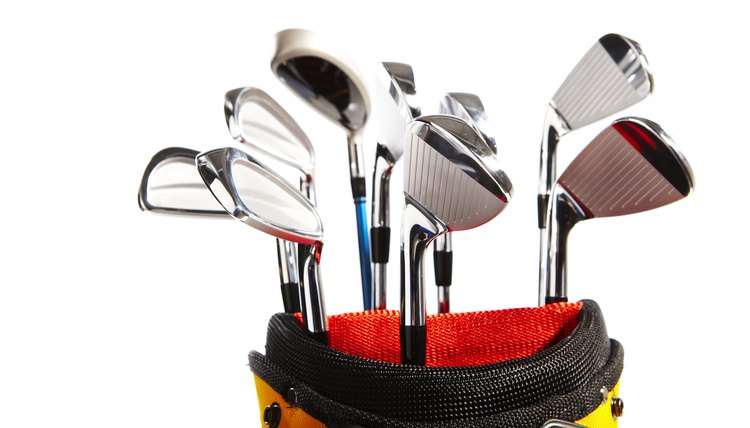 One of the best things about the game of golf is that it can be played by almost anyone, regardless of skill level. While the majority of golf clubs are manufactured with adult male players in mind, many companies also make clubs designed specifically for use by ladies or junior golfers. If you're shopping for ladies' or juniors' clubs, it's important to remember that there are several key differences between the two.
Length
The primary difference between ladies' and juniors' clubs is their length. Ladies' golf clubs are traditionally manufactured to be approximately 1 inch shorter than their corresponding men's club. According to Pine Meadow Golf, women's clubs generally range from 33 inches for a putter to 44 inches for a driver. Juniors' clubs are typically manufactured according to age and height, making them much shorter. According to All Kids Golf Clubs, juniors' clubs generally range from 20.5 inches for a putter to 41 inches for a driver.
Composition
Both ladies' and juniors' golf clubs may be made of graphite, steel or titanium. Hybrid models, which combine elements of irons and woods, are also available for both ladies' and juniors' clubs. According to All Kids Golf, graphite is more commonly used for juniors' clubs due to its lighter weight, which can help players with slower swing speeds add distance to their shots.
Shaft Flex
Standard golf clubs are manufactured with a certain degree of flexibility, which is determined based on swing speed. Ladies' flex golf clubs are typically designed for players with the slowest swing speeds, usually less than 60 miles per hour. According to All Kids Golf Clubs, there is no separate flex grade for juniors' clubs, and most are manufactured with varying degrees of flexibility to account for the varying swing speeds of younger players.
Grip
The grip is the only part of the club your hands actually touch, and it varies slightly in size for ladies' and juniors' clubs. Ladies' golf clubs typically feature grips that are made from rubber or leather. Ladies' grips are also slightly smaller than men's grips to accommodate for a woman's smaller hand size. According to Nevada Bob's Golf World, junior grips are both smaller and thinner than ladies' grips and are commonly made from a velvet material.
Custom Fitting
If you're planning to purchase a set of ladies clubs for yourself or juniors' clubs for your child, it's important to choose clubs that are the appropriate length for you or your child's height. All About Lady Golf Clubs recommends custom fitting for ladies' clubs to ensure your clubs are the right length, weight and flex to match your swing speed. Golf Digest recommends fitting your child for juniors' clubs approximately every six months to ensure continued proportionality with his height.
References
Writer Bio
Rebecca Lake is a freelance writer and virtual assistant living in the southeast. She has been writing professionally since 2009 for various websites. Lake received her master's degree in criminal justice from Charleston Southern University.