Advantages & Disadvantages of Playing Football at a Young Age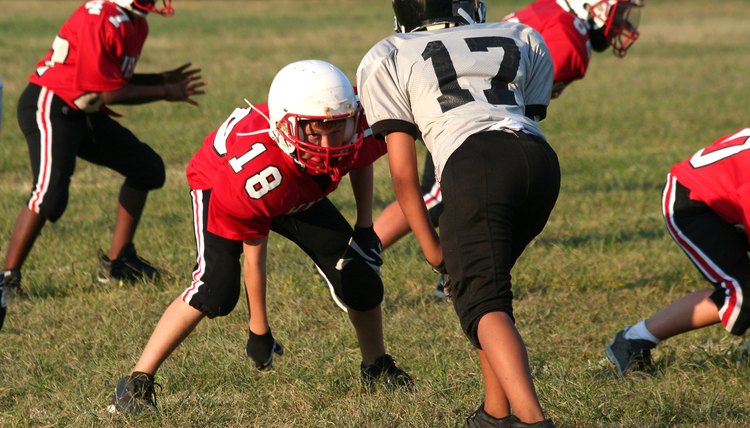 Youth football has become big business, and adults often feel the push-and-pull of the process, suggests Garrett Kramer, founder of a New Jersey athletic consulting business. Parents want to make the right choices and create low-stress, productive athletic journeys for their children. Kramer says any new experience -- including athletics -- can play a productive and empowering role in a child's development. However, both positive and negative factors come into play with football.
Teamwork
Jon Butler, executive director of Pop Warner, a nonprofit organization that encourages football, cheer and dance participation, says team sports build remarkable bonds. Contact sports like football build even stronger bonds than non-contact sports, he believes, as teammates literally "have one another's backs." Football requires each player to execute his assignment on every play to help bring the team to victory. Butler says this ingrained teamwork may be why the greatest correlation among Fortune 500 CEOs is their prior participation in team sports.
Physical Fitness
Boys and girls who play youth football engage in hours of exercise. Pop Warner leagues require 20 hours of conditioning with no pads and no contact, according to the league's website. Football involves plenty of running and helps combat rising childhood obesity levels by luring young people from their television sets and video games.
Character
Children who play football learn discipline, suggests Steve Siebold, mental toughness coach and former professional athlete. They can't be heroes on the field all the time; they learn it's not about who gets the credit, but rather about getting the job done for the team. The sport also requires children to deal with conflict resolution. If a young athlete is fouled or tackled, he learns to take it in stride. Overcoming obstacles on the football field can prepare children for success later in life.
Fundamentals
Boys and girls who participate in youth football learn the sport's fundamentals. There is great emphasis in youth football on learning proper technique and using proper drills, according to Butler. At the youngest levels, a coach is on the field at all times, instructing players. Leagues typically allow no tryouts and no cutting; every child gets a chance to play. It is mandatory for each athlete to participate in every game.
Injuries
Although many youth-football injuries result in sprains and strains, the spotlight on concussions on the playing field has caused some young athletes to reconsider the game. The American Academy of Neurology's recommendation that a qualified athletic trainer stays on the field is a step in the right direction, contends attorney Tom Gowen, arbitrator for the Eastern Pennsylvania Youth Soccer Association. Gowen says Americans should find other ways to keep players of all ages safe. Equipment and helmet improvements, along with drill modifications, are other suggestions.
Inexperienced Coaches
The league's organization and quality play an important role in the outcome of kids' football experience. However, parents run many youth leagues, and though some of these coaches played football and teach proper technique and safety, others are novices and rely on TV sports channels to guide their decisions. This puts kids at risk on the football field. Parents who want to live vicariously through their children sometimes end up coaching -- even when they are not qualified to do so.
Physicality
Gowen believes youth football is getting more violent due to increased training, specialization and today's faster, stronger players. Young people typically aren't naturally aggressive before they reach adolescence. Pennsylvania football parent Tim O'Brien says this gives the naturally rougher kids an advantage on the football field, and often causes slow-developing children to lose interest before they grasp the game's fundamentals.
Writer Bio
Karen LoBello is coauthor of "The Great PJ Elf Chase: A Christmas Eve Tradition." She began writing in 2009, following a career as a Nevada teacher. LoBello holds a bachelor's degree in K-8 education, a secondary degree in early childhood education and a master's degree in computer education.