Race Walking vs. Power Walking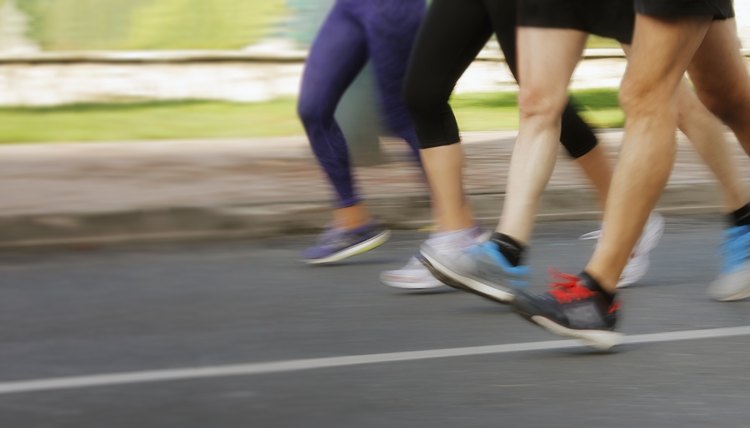 The terms race walking and power walking appear similar, but the two activities are different in many ways. Race walking is physically much more intense than power walking and is a competitive Olympic sport that is strictly regulated in the United States and internationally. Power walking, which is not a regulated sport, is a method of walking faster than normal for fitness and health. While power walking is faster than regular walking, race walking can be faster than running.
Race Walking
Race walking is an international Olympic sport with specific rules ensuring it's done properly. According to United States of America Track and Field, which oversees race walking in the United States, "Race walking is a progression of steps so taken that the walker makes contact with the ground so that no visible loss of contact occurs." Race walkers are judged in competition to make sure one of their two feet remains touching the ground at all times and to ensure they don't lapse into running.
Power Walking
Power walking, also known as fitness walking and health walking, is slower and not as rigorous as race walking. It's embraced by many people as an effective and easy method for losing weight and staying in good shape. Unlike going for a stroll, power walking involves swinging your arms in an exaggerated back and forth motion in rhythm to your steps, taking long strides and hitting the ground with your heel first as you propel yourself forward as quickly as possible.
Calories
You can measure the different intensities of power walking and race walking by the number of calories each exercise burns. According to the calorie calculator at NurtriStrategy.com, if you weigh 155 pounds, walking at a brisk, power walk pace of 3.5 miles per hour burns 267 calories per hour. If you step up that pace into the more intense power walking zone of 4 mph, you'll be burning 352 calories per hour. If you turn that into a race walk -- which can be more than 8 mph for world record holders -- you'll burn 457 calories per hour.
Similarities
While the intensity level of each walking style is very different, both exercises share many positive aspects; like building your cardiovascular endurance. Walking at a fast pace tones almost all the muscle groups in your body, gets you in all-around good shape and effectively burns calories. Both sports are also very inexpensive because they require very little special equipment, aside from a sturdy pair of sneakers or walking shoes.
References
Writer Bio
A journalist and writer since 1987, Alex O'Meara has worked for the "Baltimore Sun," City News Bureau of Chicago, "Newsday" and NBC. Author of the healthcare expose, "Chasing Medical Miracles: The Promise and Perils and Clinical Trials," O'Meara has completed several marathons and holds a B.A. in English from Long Island University.