What does fact checked mean?
At SportsRec, we strive to deliver objective content that is accurate and up-to-date. Our team periodically reviews articles in order to ensure content quality. The sources cited below consist of evidence from peer-reviewed journals, prominent medical organizations, academic associations, and government data.
The information contained on this site is for informational purposes only, and should not be used as a substitute for the advice of a professional health care provider. Please check with the appropriate physician regarding health questions and concerns. Although we strive to deliver accurate and up-to-date information, no guarantee to that effect is made.
The Best Upper-chest Workout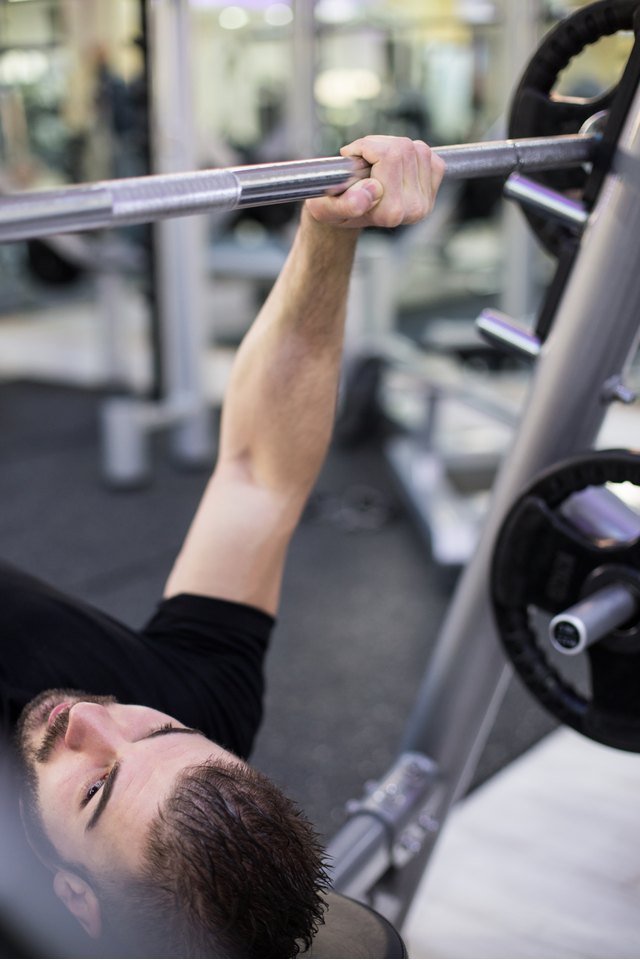 The most effective upper-chest workout focuses on free-weight movements. Free-weight exercises place stress on your muscles throughout the full exercise range of motion. This continual workload optimizes your chest workouts, leading to increased muscle strength and size gains. Before starting a resistance training program, consult a physician.
Anatomy
The clavicular head of the pectoralis major muscle spans across the upper portion of your chest. The upper pecs are recruited when you flex your shoulder muscles or move your upper arms across your chest with elbows facing out to the sides. Barbell incline bench presses and dumbbell incline fly exercises mimic movements that stimulate the upper pecs, making each free-weight exercise a critical component of an effective upper-chest workout.
Barbell Incline Bench Press
Barbell incline bench presses build muscle mass and strength throughout the entire upper-chest area. The exercise involves pressing a weighted barbell upward from a supine position. Avoid using a grip wider than shoulder width to keep the emphasis on your upper pecs. Keep your back flat against the bench and avoid any swinging or jerking motion to reduce the risk of injury. Do four sets of 12 repetitions to increase upper pectoral muscle size and strength. Rest 45 seconds between sets.
Dumbbell Incline Fly
The dumbbell incline fly adds muscle strength and size to the inner portion of your upper chest. The exercise involves moving two dumbbells in an arc-like motion from your sides to above your chest while sitting on an incline bench. Set the bench to an incline of no more than 30 degrees to target your upper chest. Keep your feet flat on the floor to reduce stress on your lower back muscles. Do four sets of 12 repetitions to strengthen your upper chest, resting 45 seconds between sets.
Recommendations
Train your chest no more than twice per week to allow for optimal recovery time between workouts. Stretch for five minutes pre- and post-workout to increase chest flexibility and reduce risk of injury. Warm up with five minutes of light jogging before resistance-training sessions to bring blood into the chest muscles, optimizing your workouts.
References
Writer Bio
Based in New Jersey, Ryan Biddulph has been writing since 2010, with his articles appearing on LIVESTRONG.COM, among others. He has helped clients reach their personal fitness goals since 2001. He also runs an Internet marketing blog. He holds a Bachelor of Science in meteorology from Kean University and a certificate in Web development from the Cittone Institute.