Small Bike Wheels Vs. Large Bike Wheels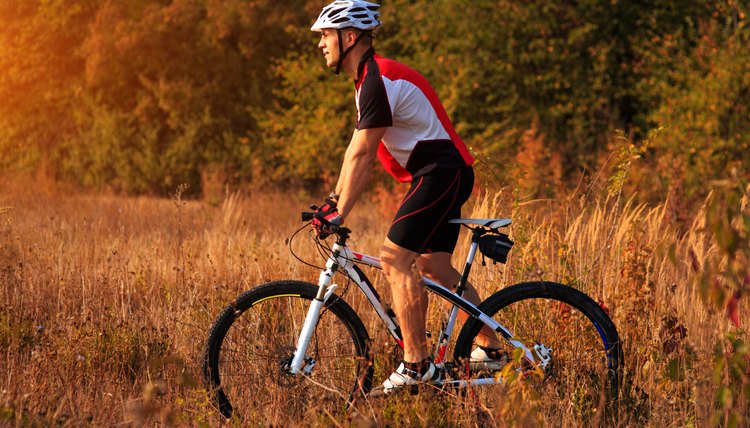 Wheel size comparisons came into play with the introduction of the 29-inch mountain bike wheel, as opposed to the standard 26-inch wheel used almost exclusively on mountain bikes for many years. Road bike wheels -- although not typically challenged by size comparisons because of the standardized 700c wheel -- can be compared to the 650c wheel. The smaller wheel was commonly used on smaller road bikes for many years, but has since declined in popularity.
Big Wheels Keep Rollin
Big wheels are heavy. If you count every gram like professionals -- that's about the weight of a paper clip -- the extra weight of the 29-inch wheel can be considerable when compared to the smaller 26-inch wheel. It can make a difference when climbing or getting up to speed from a dead stop. Once the bike is moving, though, the extra size and weight provides more momentum than the smaller wheel.
Clearance Sale
Larger wheels require more clearance, making the bottom bracket or axle higher off the ground. The larger wheel requires bigger bike frame geometry overall, making 29-inch-equipped bikes more suitable for bigger or taller riders. There are fewer bike sizing options available on 29-inch-equipped bikes for smaller riders, as opposed to a plethora of sizes for average, or smaller riders who choose 26-inch-equipped bikes.
Keep Em Turning
The larger diameter of the 29-inch wheel allows them to roll over rocks, roots, limbs, ruts and obstacles better than 26-inch wheels. The roll-over characteristic provides an overall smoother ride than 26-inch wheels. Some cyclists feel disconnected from the trail due to the smooth ride, and prefer the seat-of-the-pants feel of a 26-inch tire, but others prefer the smoother ride of the 29-inch wheel, testifying that a smoother ride means more speed on rough terrain.
Traction And Detractions
Larger wheels have better traction due to more rubber on the ground, or contact patch. This alone can make a difference on steep climbs, and sandy or loose trail surfaces. Unfortunately, the longer wheelbase needed to compensate for the 29-inch wheel lacks the maneuverability and handling of the 26-inch-equipped bike, and can make the bike feel sluggish. It takes more effort to steer a bike equipped with 29-inch wheel than it does to steer a 26-inch wheel.
Miles From Home
The majority of bike shops carry everything imaginable to repair or replace 26-inch wheels including tubes and tires. Replacement 29-inch wheels and accessories can be more difficult to find, as they are less popular. If you're miles from home and have problems, it can be difficult to find replacements or parts in small towns for 29-inch wheels.
Retro Roadie
The prevalence of 700c road bike tires have made road bike wheel size comparisons somewhat retro. However, there are still reasons why the smaller version -- the 650c road wheel -- can be validated. For petite riders, 650c wheels are faster than 700c wheels because the bike is also proportionately smaller and fits smaller riders better. There is also a small difference in weight, but it's typically insignificant unless you're a professional, trying everything possible to subtract a few grams from the total weight of the bike. The smaller geometry used on bikes with 650c wheels also positions the rider more comfortably, requiring less reach or stretch, making the bike handle and perform better for smaller riders. There are some downsides to 650c wheels due to the unavailability of the product. Tubes, tires and wheel components can be hard to find.
References
Writer Bio
Specializing in hardwood furniture, trim carpentry, cabinets, home improvement and architectural millwork, Wade Shaddy has worked in homebuilding since 1972. Shaddy has also worked as a newspaper reporter and writer, and as a contributing writer for Bicycling Magazine. Shaddy began publishing in various magazines in 1992, and published a novel, "Dark Canyon," in 2008.