How to Determine What Size Rollerblades You Need?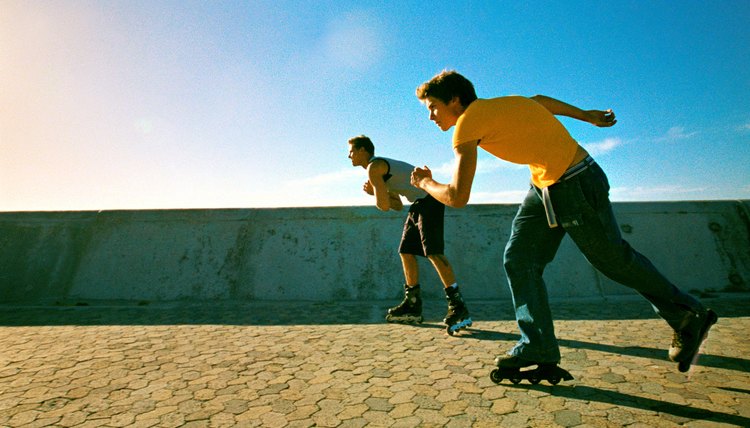 According to Inline Planet, wearing poorly fitting Rollerblades, also known as inline skates, constitutes the number one mistake of beginning skaters. If you wear Rollerblades that don't fit your feet, you will have trouble skating or even standing comfortably. Skates that are too small can give your feet blisters. Skate sizes vary depending on the brand and manufacturer, so use your shoe size as a starting point rather than assuming that you will need skates in exactly that size.
Consult a sizing chart to help you determine what sizes to try on first. Some manufacturers' sizes might tend to run large, while others' might tend to run small. For example, if you compare the different lengths of a men's size 9 skate from different manufacturers you'll see a difference in length. According to Dick's Sporting Goods skate size guide, an American Athletic size 9 measures 10.94 inches long, a Bauer size 9 measures 10.9 inches long and a Remz size 9 measures 11.2 inches long.
Try on a variety of skates with the socks you will wear when skating.
Push your heel all the way into the skate by pressing the back wheel against the ground.
Tighten all laces or buckles on the skates and stand up. Bend your knees to sink your feet into the skates.
Move your toes and heel around in the skate as you stand to check the fit. Your toes should sit close to the end of the skate but they should not feel crunched or folded. You should not be able to move your heel around, but it should not feel squeezed.
Stand in the skates for 10 to 15 minutes to check for fit problems you might not have noticed right away.
Tips
Try on skates from several different manufacturers. Some manufacturers produce narrower or wider skates. You might find that you get a better fit with one particular brand. When ordering from overseas vendors, don't use your shoe size. Instead, measure your foot in centimeters and use that measurement to ensure that your new skates will fit.
References
Writer Bio
Lisa Porter began writing professionally in 2009. She writes for various websites and has a Bachelor of Arts in English literature.