What does fact checked mean?
At SportsRec, we strive to deliver objective content that is accurate and up-to-date. Our team periodically reviews articles in order to ensure content quality. The sources cited below consist of evidence from peer-reviewed journals, prominent medical organizations, academic associations, and government data.
The information contained on this site is for informational purposes only, and should not be used as a substitute for the advice of a professional health care provider. Please check with the appropriate physician regarding health questions and concerns. Although we strive to deliver accurate and up-to-date information, no guarantee to that effect is made.
Glute Exercises You Can Do With Bad Knees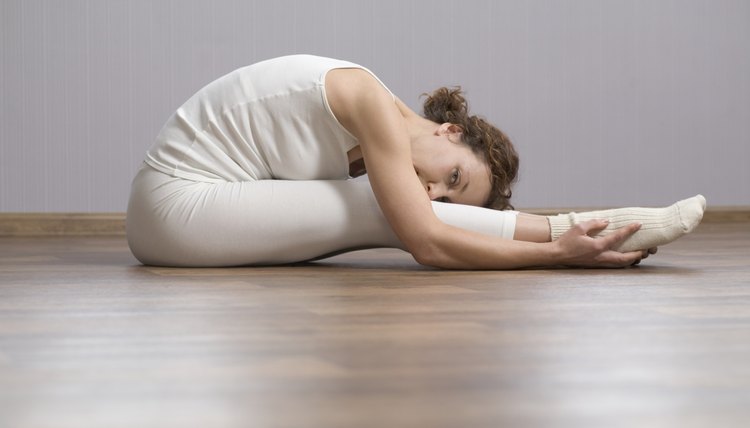 Finding the right exercises can be a challenge with bad knees. Exercises that involve bending the knee or kneeling can cause pain or lead to further injury of the joint. If you do have bad knees, don't let that keep you from working out. You can perform many exercises in positions that won't strain your knees, especially exercises that target your glutes.
Strengthen With Supermans
Supermans strengthen your glutes as well as your back and shoulders. Lie face down on the floor with your arms stretched straight out over your head. Rotate your arms so your palms are facing in. Contract your glutes and back to lift your arms and legs off the floor. Hold for two to three seconds. Lower and repeat 10 to 15 times.
Build With Bridges
To perform a glute bridge, lie face up on the floor with your knees bent and your feet flat on the floor. Your feet should be shoulder-width apart. Tighten your abdominal muscles and rotate your pelvis up toward your chest so your back is flat on the floor. Keeping your abs tight, squeeze your glutes and lift your hips off the floor. Raise your hips until your knees, hips and shoulders are in line. Relax your glutes and lower back to the floor. Repeat 10 to 15 times. This exercise strengthens your abs, glutes and hips.
Add Definition With Abductions
Try side-lying hip abductions to specifically target your gluteus medius muscles on the outside of your glutes. Lie on your right side with your bent right arm under your head. Rest your left arm along your left side. Your shoulders, knees and feet should all be stacked one on top of the other. Your top shoulder, hip, knee and ankle should be in a straight line. Contract your left glutes and lift your left leg straight up until the hip joint is between 30 and 45 degrees. Do not allow your hips or knees to rotate during the movement. Relax your glutes and lower your leg. Repeat 10 to 15 times and switch sides.
Tips and Precautions
Complete one to three sets of each exercise two or three times a week. Always allow at least one day between sets for the muscles to recover. Focus on proper form during the exercises. This will protect your low back and ensure that you're really targeting your glutes during each repetition. Check with your doctor before beginning any exercise routine, especially if you have injuries or joint issues.
References
Writer Bio
Lisa Thompson has been writing since 2008, when she began writing for the Prevention website. She is a holistic health practitioner, nationally certified massage therapist and National Council on Strength and Fitness-certified personal trainer. Thompson also holds certificates in nutrition and herbology from the Natural Healing Institute, as well as a Master of Education from California State University.