What does fact checked mean?
At SportsRec, we strive to deliver objective content that is accurate and up-to-date. Our team periodically reviews articles in order to ensure content quality. The sources cited below consist of evidence from peer-reviewed journals, prominent medical organizations, academic associations, and government data.
The information contained on this site is for informational purposes only, and should not be used as a substitute for the advice of a professional health care provider. Please check with the appropriate physician regarding health questions and concerns. Although we strive to deliver accurate and up-to-date information, no guarantee to that effect is made.
Overhead Triceps Press vs. Skullcrushers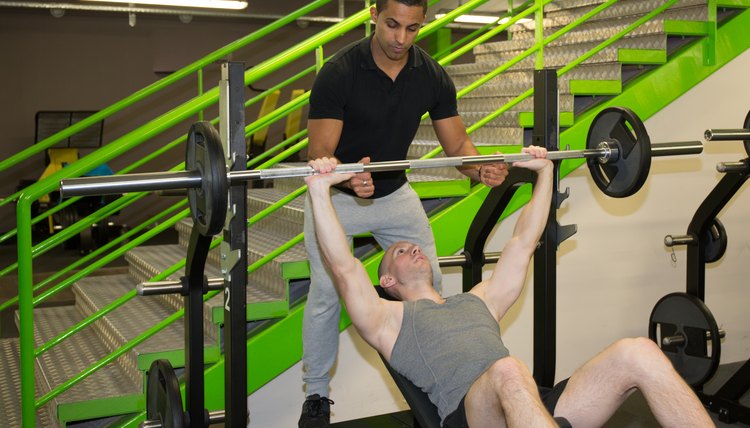 When it comes to building upper-body strength, you have plenty of options of exercises to use to accomplish your goals. If hitting your triceps -- the large muscles on the back of your upper arm -- is your goal, then exercises such as the skullcrushers and the overheard triceps press can be advantageous. While the two exercises have some similar benefits, they do have some differences you may find significant for your workout plans. Consult your doctor before starting any workout plan.
Equipment Used
Whether you find the overhead triceps press or the skullcrusher more convenient may depend on which equipment you have available. The skullcrusher uses a barbell, while you can perform the overhead triceps press with dumbbells, a barbell or an overhead press machine. Most commercial gyms have all three types of equipment, so in that case, performing either exercise would not be an issue.
Primary Muscle Target
Which of these two exercise is a better choice for you probably depends on which muscle you wish to prioritize. The primary target of skullcrushers is your triceps, while the primary drivers supplying the force for the overhead press are your shoulder muscles, known as the deltoids. Although both exercises do involve other muscles, whichever muscle is the prime mover will receive the most benefit from the exercise you choose.
Supporting Muscles
While the skullcrusher does not have any secondary, or "supporting," muscles, several muscles other than your shoulder muscles drive the motion of the overhead triceps press. As the name suggests, your triceps are among those muscles, but your pectoral muscles and your trapezius contribute to the movement as well.
Stabilizing Muscles
Stabilizing muscles help keep your arms or other body parts stable during an exercise so you don't waste energy through extraneous motion. Because there is only one primary driving muscle group involved with skullcrushers, more stabilizers are required. The muscles stabilizing your arms during skullcrushers are your shoulder muscles, or deltoids, your wrist flexors, pectorals and latissimus dorsi, located in your back. The muscles stabilizing your arms in the overhead triceps press are the biceps, triceps, trapezius and levator scapulae.
Difficulty
While the difficulty of any exercise ultimately depends upon the strength of the person performing that exercise, other factors, such as the amount of prime movers, can make an impact as well. Because skullcrushers depend primarily on your triceps, you may find the exercise more difficult than the overhead triceps press, which features many secondary muscles assisting the prime mover.
References
Writer Bio
Brian Willett began writing in 2005. He has been published in the "Buffalo News," the "Daytona Times" and "Natural Muscle Magazine." Willett also writes for Bloginity.com and Bodybuilding.com. He is an American Council on Exercise-certified personal trainer and earned a Bachelor of Arts in journalism from the University of North Carolina.