The 40 Yard Dash on the Track versus Turf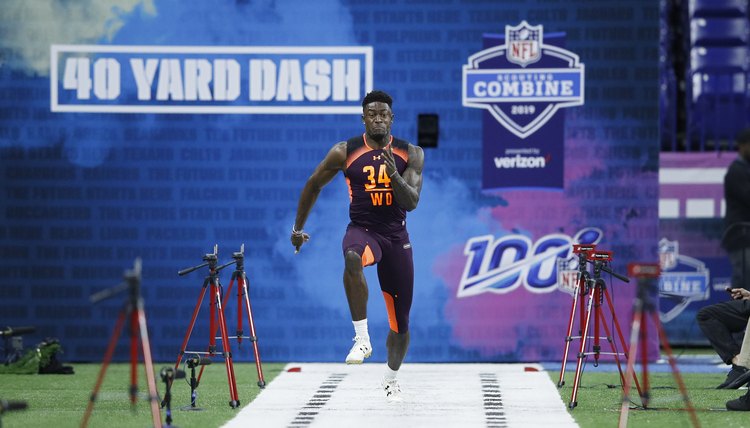 The 40-yard dash is a sprint that can be run on any surface. Some prefer it to be run on artificial or real field turf, whereas others prefer it to be run on a track, as there is a difference in running speed and agility, depending on what terrain is chosen.
NFL teams, for instance, normally time their players on turf when scouting for the NFL Draft because it simulates game conditions on a football field. But players also are timed indoors on a hard synthetic turf floor during the NFL Scouting Combine held before the annual draft.
Purpose
The purpose of the 40-yard dash is to test an athlete's acceleration, speed, agility and quickness, according to Topend Sports. It is also part of the SPARQ rating system for football players.
What is a Good 40 yard Dash Time?
In this test, the sprinter covers over 40 yards while being either hand-timed or using an electronic timing system to determine when they cross the finish line. The average 40-yard sprint times for different individuals includes:
4.6 to 4.9 seconds for NCAA football players

4.9 to 5.6 for high school football players

5.0 for recreational male college athletes

5.8 seconds for recreational female college athletes

Elite NFL skill position players, like running backs, wide receivers and defensive backs, have been timed as low as 4.2 to 4.3 seconds. A 40-yard dash may be done on turf or a track.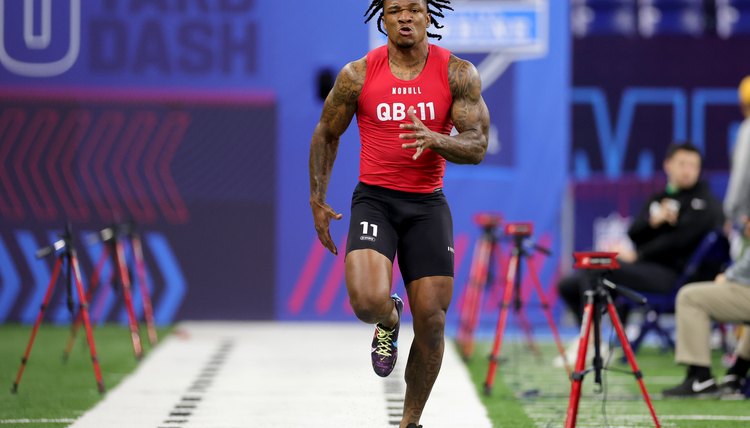 SportsRec
Uses
Although the 40-yard dash is used in school and track, it is primarily a way to evaluate football players' sprint speed. Track-and-field runners are often timed using a stopwatch or starting gun on the track. Because they will run on tracks most of the time, the 40-yard dash test is often given on this running surface.
Turf Benefits
The Philly website states that artificial turf helps football players with agility drills. According to the "Journal of Strength and Conditioning Research," college football players were 3 percent faster on an artificial turf over a natural grass surface, although it only slightly changed their 40-yard dash times.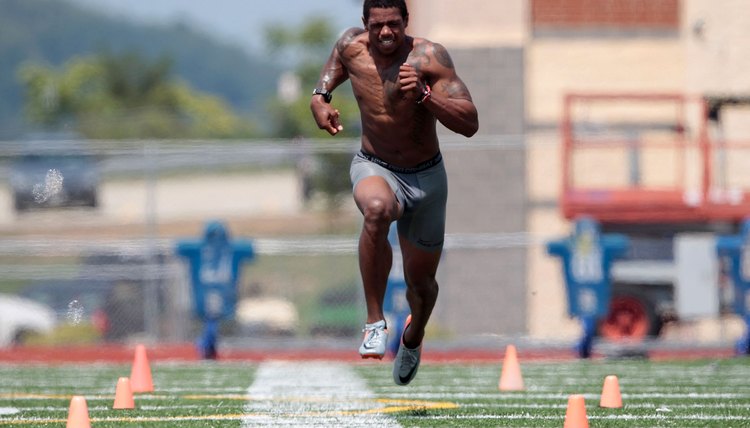 SportsRec
Running the 40-yard dash on turf can also be challenging, even for professional football players, if you are not wearing the correct shoes. Track running shoes will not work well on turf, so you'll need to look for lightweight shoes with cleats. According to NFL Combine Workout, wearing the right type of shoes on the turf can help you run faster.
Considerations
At the time of publication, there is no information to state whether running the 40-yard dash on turf or synthetic track is quicker or better. However, the NFL states that running on a track or turf is faster than running on grass.
Writer Bio
April Khan is a medical journalist who began writing in 2005. She has contributed to publications such as "BBC Focus." In 2012, Khan received her Doctor of Public Health from the University of Medicine and Dentistry of New Jersey. She also holds an Associate of Arts from the Art Institute of Dallas and a Master of Science in international health from University College London.