Power vs. Artistic Gymnast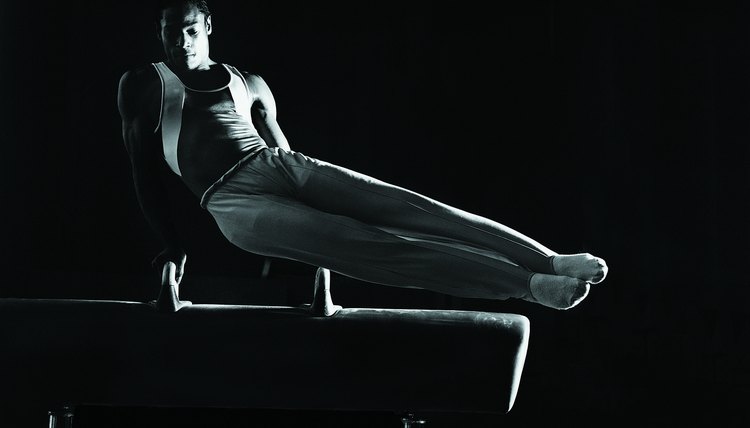 Gymnastics requires exceptional athletic ability, relying on strength, endurance and flexibility. The discipline stands out from many other sports, however, in its uniquely aesthetic requirements; in addition to physical prowess, gymnasts are judged on their artistry. Within the broader field of gymnastics, athletes may specialize in artistic gymnastics, an internationally recognized discipline that focuses on the artistic and technical aspects of challenging gymnastic feats. Gymnasts may also be described as either artistic or power athletes as a subjective description, according to their primary strength and approach to the sport.
Gymnastics Basics
As defined by USA Gymnastics, the United States' governing body for the sport, gymnastics may be subdivided into four basic categories: artistic gymnastics, rhythmic gymnastics, acrobatic gymnastics (or "acro"), and trampoline and tumbling. Artistic gymnastics includes many of the best-known events, including floor exercise, pommel horse, rings, horizontal bars, vault and parallel bars. Both men's and women's teams compete in the Olympics, the major competition for the sport. Rhythmic gymnastics, a more dance-inspired discipline, also has its highest international competition at the Olympic games, as does trampoline and tumbling. Acrobatic gymnastics, on the other hand, is not featured in the Olympic games, though the competitive sport is regulated by the International Gymnastics Federation, just like the other three divisions.
Artistic Gymnastics: The Sport
Artistic gymnasts typically compete in various gymnastic events and are judged on their overall performance throughout the events to qualify for finals rounds and awards. Judging is traditionally done on a scale going up to 10, though Olympic judging has used two groups of judges since 2006, producing scores of up to 20. One panel of judges assesses the gymnast's physical skill by judging the degree of difficulty of the chosen routine. The other panel focuses on artistry, composition and the overall execution of the routine.
Artistic and Power Gymnasts: Style
Aside from the official division of the sport, a gymnast may be deemed an "artistic" gymnast as a subjective commentary based on her overall performance style. For example, U.S. National Team member Mattie Larson may be considered an artistic competitor, given her graceful movements. By contrast, the term "power gymnast" is usually reserved for competitors who demonstrate exceptional strength or whose technical prowess overshadows their grace. While neither term is strictly complimentary or pejorative, they are used subjectively to differentiate between the styles of various athletes.
Power and Artistry: Judging
Whereas many sports are designed with concrete, built-in measures of success, such as goals or points, gymnastics events rely on the decisions of a panel of judges and a set of judging criteria. The judging of all gymnastic events is designed to give equal attention to the level of difficulty of the movements a gymnast undertakes and to the graceful execution of these movements. The same combined scoring method is applied to artistic gymnastics events as well as divisions such as trampoline or acrobatic gymnastics. Since scoring is ultimately subjective, controversy and disagreement is widespread among gymnastics enthusiasts as to whether judging panels are balanced in considering power and artistry.
References
Writer Bio
Danielle Hill has been writing, editing and translating since 2005. She has contributed to "Globe Pequot" Barcelona travel guide, "Gulfshore Business Magazine," "Connecting Lines: New Poetry from Mexico" and "The Barcelona Review." She has trained in neuro-linguistic programming and holds a Bachelor of Arts in comparative literature and literary translation from Brown University.