Wearing Earrings While Exercising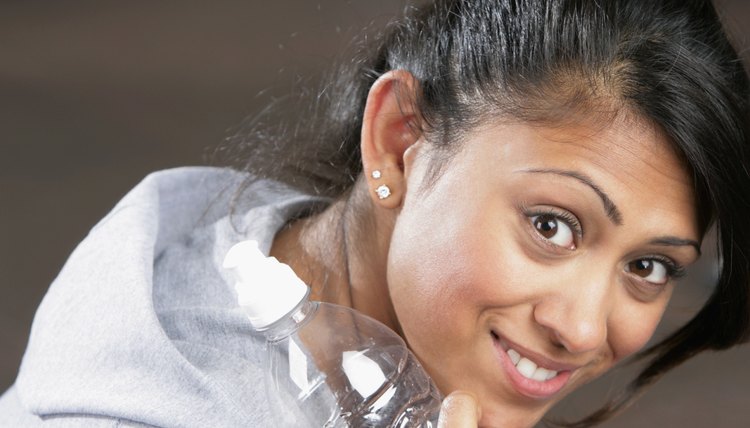 Whether you wear them as a fashion statement, for sentimental reasons or for good luck, earrings are an accessory you don't have to sacrifice while exercising. Many professional athletes safely wear earrings and other jewelry while practicing and competing, and so can you. The key to pulling this off without injury is practicality. Wear the right type of earrings for your activity.
Solitary Activities
Solitary sports activities, such as running, aerobics and dance, allow you to wear a wider variety of earrings thanks to the minimal chance that someone or something can yank them off. Studs, lightweight hoops, and small chandelier-style earrings are just a few options. Make sure you avoid styles that are too long or too big. Long earrings can swing into your face as you move, and heavy earrings will pull on your ear and can damage your earlobe.
Contact Sports
For contact sports, including soccer, cheer-leading and boxing, safety trumps style. Types of earrings that can be pulled or get caught on clothes should be avoided. This includes ear cuffs and barbell earrings. It's best to wear small, smooth studs that can't be pulled or get caught on anything. Studs come in all shapes and sizes, and you can even design a customized pair.
Water Activities
For water activities, wear flat studs that won't rust or tarnish. Metals that don't rust or tarnish include gold, sterling silver and surgical steel. You can also wear more colorful, less expensive plastic studs as long as the back post of the earring is made of a water-safe metal. Studs are also streamlined and can fit under a swim cap, allowing swimmers to move and dive easily.
Activities Requiring a Helmet
Depending on the type of activity and headgear, your ears may be partially or completely covered. If your ear is only partly covered, stick to studs or thin, light earrings no longer than two inches. This prevents the earrings from getting entangled in any straps, and also allows the maximum comfort. With helmets that completely cover the ear, studs are best. However, flat, thin, soft materials are also an option. Because they are covered, there is less of a chance that they will distract you or get snagged on something.
Other Safe Options
Some earrings have grooves on the posts, allowing the backings to be screwed on and securely fastened. This option works for any activity because the earrings will not fall off and get lost. There may be times, such as right after you get your ears pierced, when you can't avoid wearing earrings while exercising. If this is the case, and the earrings in your ears are studs, cover them up for safety. You can use regular bandages or athletic tape to fully cover the front and back of the earring in your ear. You can also wear an athletic headband and pull it over your ear lobes. If you are part of a team sport association, check with your coach or trainer to see if this is allowed.
Earrings to Avoid
Common sense should always guide you when you choose earrings before exercising. Clip-on earrings can get lost easily and can be distracting or cause skin irritation. Textured earrings may get caught on clothes and hair easily. Earrings with sharp edges or posts should be avoided because they could cut your skin on impact. Think twice before wearing valuable or sentimental earrings while exercising. The risk of losing them may not be worth wearing them.
References
Writer Bio
Atembe Giles has written for multiple publications over the past six years, including digital publications such as College Fashionista and publications such as Campus Fashion Today, Kaleidoscope Magazine and Black Ink.