Definition of Adventure Sports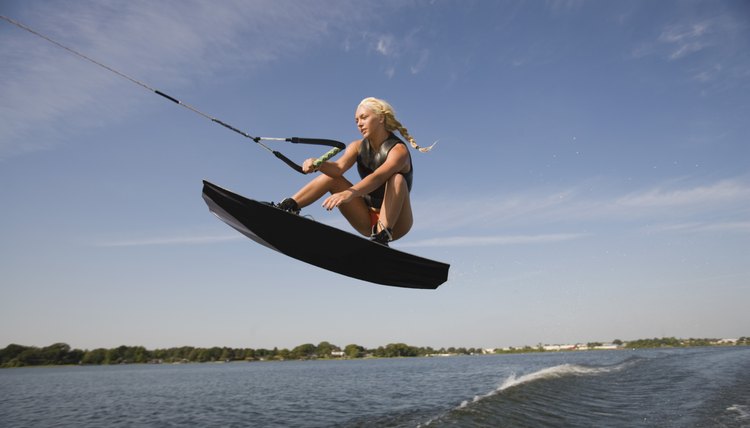 While some people have fun playing cards or shopping, other people have fun jumping off cliffs, climbing up ice mountains and smashing into roaring waves. These extreme sports enthusiasts take on nature's most menacing qualities, hoping to survive and conquer. Although the definition of "adventure sports" explains the general characteristics of the activity, it does little to express the adrenaline, danger and thrill associated with extreme sports.
Definition
As explained by the Living Dangerously website, the phrases "adventure sport" or "extreme sport" are used to classify certain activities that feature a high level of danger. In fact, the website goes on to explain that "these activities often involve speed, height, a high level of physical exertion, and high specialized gear or spectacular stunts." These adventure sports can be competitive or non-competitive and often involve individual participants, rather than teams. The high danger associated with the activities places the participants at high risk for injury and/or death in the case of an accident or mistake.
Water Sports
When surfing or bodyboarding, a participant tackles tantalizing ocean waves using only his body and a board. Surfers use an extremely long board, while bodyboarders use a much smaller board. If you want to ditch the board for a boat, opt for extreme canoeing or white water rafting. With both sports, participants use a boat and paddles to tackle the dangerous whitewater rapids. With extreme canoeing, the boat is typically narrow and wooden, while white water rafting involves a large inflatable raft. Other adventure water sports include cliff diving, barefoot water skiing, windsurfing and scuba diving.
Mountain Sports
The mountains are a prime place for adventure sports year-round. During the warm months when the snow has melted away, adventure sports athletes take to the mountains for mountain biking and rock climbing. On a mountain bike, riders tackle rough terrain and downhill trails. With rock climbing, climbers scale natural rock formations using their hands and a few pieces of specialized equipment to prevent fatal falls.
Winter Sports
If water is a bit too tame for your interests, take on its frigid, freezing sister. During the winter, adventure sports enthusiasts take on snow and ice in a variety of extreme winter sports. Similar to rock climbing, ice climbing involves scaling the side of a frozen waterfall or solid ice glacier. On the other hand, ice boating involves racing a boat fitted with skis over frozen waters. Although snowboarding is considered an adventure sport, some participants take it to the extreme by jumping out of a helicopter onto the snowy slopes. Other adventure winter sports include extreme skiing and snowmobiling.
Air Sports
If you prefer the feel of wind, rather than water or earth, try your hand at an extreme air sport. Generally, these sports involve throwing your body into the air at an extremely high elevation. BASE jumping or skydiving involves jumping from a building, antennae, bridge, cliff or airplane, and using a parachute to sail safely to the ground. Although bungee jumping also involves jumping into the air from a significant elevation, participants are connected to a large elastic cord, which prevents them from hitting the ground. Various other adventure air sports include hang gliding, sky surfing and high wire (tight rope) walking.
Writer Bio
Krista Sheehan is a registered nurse and professional writer. She works in a neonatal intensive care unit (NICU) and her previous nursing experience includes geriatrics, pulmonary disorders and home health care. Her professional writing works focus mainly on the subjects of physical health, fitness, nutrition and positive lifestyle changes.