Different Kinds of Sports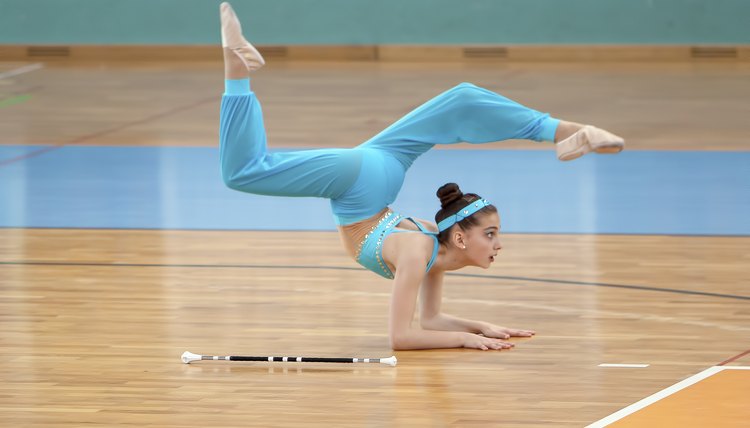 When the Winter or Summer Olympics air, you might discover sports you never knew existed. Sports involve more than bats, balls and nets -- you can find them using cues, boats, batons, ribbons, targets and animals. Mainstream sports involve those you might find televised or with scholarships associated, but they represent only a small percentage of the whole sporting world. Sport is defined as a game or contest in which people exert themselves physically and follow specific rules while competing against one another, or as a physical activity done for enjoyment.
Ball Sports
Ball sports fall into multiple categories: ball over net, ball and bat, ball and stick and ball only. Examples of ball over net games include volleyball, water polo and tennis. Ball and bat -- or stick -- games include golf, lacrosse, field hockey, softball and baseball. Ball-only games include familiar sports such as basketball, American football, bowling and soccer. Handball, table tennis and paddleball also fall into this category.
Endurance and Track
From sprints to ultra marathons, running can be approached as a recreational or professional, sport. Track and field events, from the high jump to the long- jump to discus and javelin throwing, include individual and team events, such as relays. Road cycling, track cycling, mountain biking, cyclo cross and BMX place the athlete on a two-wheeled vehicle. Even walking is classified as an Olympic sport when you are a competitive race walker. Multi-sport activities are often classified as endurance sports; these include triathlon in which you swim, bike and run; biathlon in which you ski and shoot; duathlon in which you bike and run. Multi-sport track events include the decathlon, which involves a 100-meter dash, long jump, shot put, high jump, 400-meter dash, 110-meter hurdles, discus throw, pole vault, javelin throw and a 1,500-meter run; and heptathlon consisting of the 100-meter hurdles, high jump, 200-meter dash, shot put throw, long jump, 800-meter run and javelin throw.
Combat and Strength Sports
Martial arts, including karate, taekwondo and jujutsu, are ancient combat sports that thrive today at the local and international levels. Wrestling, boxing and mixed martial arts -- including ultimate fighting -- also fall under the category of combat sports. Combat sports sometimes include the use of weapons, such as in fencing and kendo. Weightlifting, power lifting and bodybuilding are among the most well-known strength-based sports.
Man's Best Friends
Dogs compete bravely in the sport of dog sledding, marked by the iconic Iditarod race in Alaska. Horses feature in dressage, show jumping and polo. Horses, as well as other animals, partner with their riders in rodeo sports and barrel racing. Horses often become the featured athlete, as in horse racing and harness racing.
Water, Ice and Snow
Rowing, swimming and sailing are among the more mainstream water-based sports. Diving, surfing, wakeboarding and synchronized swimming also fall into this category. When water freezes, people play sports such as ice hockey -- also considered a ball and stick game -- and curling, or participate in figure or speed skating. In snowy climates, you can ski, snowboard and sled; or if you want to try Olympic sports, you have the luge, bobsled and skeleton.
Gymnastics
The sport of gymnastics consists of more than the artistic gymnastic events, such as balance beam and high bar, that you're accustomed to viewing on television. Rhythmic gymnastics have athletes perform using props, such as ribbons and ropes. Trampolining, rope jumping and trapeze also fall under the gymnastics realm. Slack lining, in which you perform balancing moves -- including flips -- on a loosely anchored, elevated rope, is another sport that's gained popularity since the 1980s.
Are These Really Sports?
Archery, target shooting and badminton are familiar activities that do fall under the category of sports. Ultimate Frisbee, fishing and hunting are also classified as sports. You might raise an eyebrow at competitive marching band, cheerleading, dance, majorette and baton twirling being listed as sports, but these activities do fit the definition. Several sports fall under the category of air sports, including hang gliding, competitive ballooning and parachuting. Climbing, bouldering and mountaineering are outdoor sports for the adventurous. Athletes involved in motor sports are adept at controlling a machine, as in auto, ATV, motorboat or motorcycle racing.
References
Writer Bio
Andrea Cespedes is a professionally trained chef who has focused studies in nutrition. With more than 20 years of experience in the fitness industry, she coaches cycling and running and teaches Pilates and yoga. She is an American Council on Exercise-certified personal trainer, RYT-200 and has degrees from Princeton and Columbia University.