What is the Weight of a Shot Put?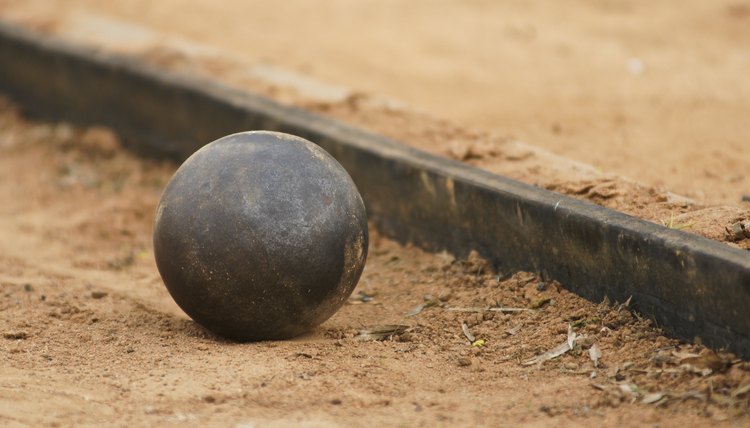 Just like discus throw, hammer throw, and javelin throw, shot put is one of the most strength reliant track and field events in the world. Shot putters come in all sizes and shapes. Eight-year-old girls and 80-year-old men can participate in the shot put, but they won't all throw the same weight. Based on an athlete's sex, ability, and age, the rules for U.S. competition allow different weights. Shot put weights and dimensions are determined by the National Federation of State High School Associations, USA Track and Field and the NCAA.
What is shot put?
Shot put is a throwing event that dates back to the Middle Ages, where soldiers would throw cannonballs to see who could throw it further. The first official shot put competitions were held in 19th century Scotland and have evolved ever since. The basic concept remains the same; throwers throw a metal ball as far as they can. Of course there are some rules; throwers must throw from a throwing circle and must keep the shot put tight to the neck before the throw. There is also a stop board, or toe board, which signifies where the circle ends, the shot must be released before this point and it must land in the throwing sector.
What is the weight of a youth shot put?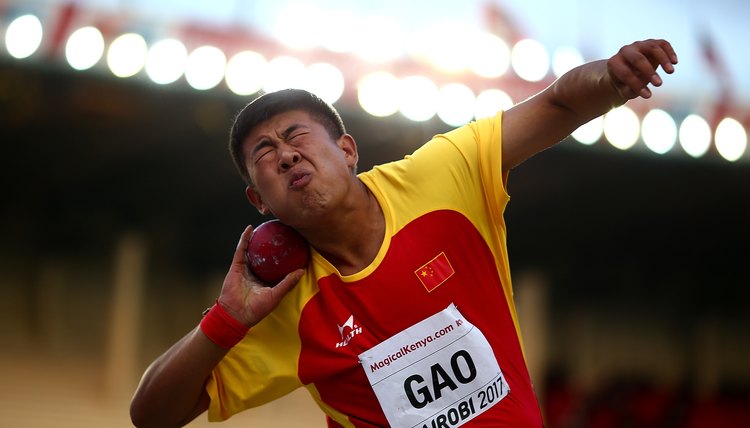 cherrus/iStock/Getty Images
Competition for children is organized by USATF into age groups that span two years. The age groups are determined by the child's age at the beginning of the year. Those 8 years of age and younger use a 4.4 lb. shot. It increases to 6 lb. for 9- to 12-year-olds. In the 13- to 14-year-old age group, girls continue to use the 6 lb. shot while boys use an 8.8 lb. shot put. In the 15- to 18-year-old brackets, the USATF shot weights are the same as high school weights set by NFHS: Boys throw a 12 lb. shot while girls throw an 8.8 lb. shot.
Open Age Groups
In NCAA, Olympic games, national and international competition, men's shot put events use a 16 lb. shot while women's events continue to use the 8.8 lb. shot. National and international competitions for junior men or those younger than 20 years of age at the beginning of the year use a 13.2 lb. shot.
Masters
Older athletes compete in five age groups. Men 30 to 49 years old continue using the 16 lb. shot used by open age group men. Fifty-year-old men use a 13.2 lb. weight. The weight of the shot decreases by 2.2 lb. every decade. Sixty-year-old men use an 11 lb. shot, 70-year-olds use an 8.8 lb. shot, and men over 80 years use a 6.6 lb. shot. Women continue to use the 8.8 lb. shot until they reach 50 years of age. The shot then drops in weight to 6.6 lb. for women up to 74 years of age. Women older than 75 years of age use a 4.4 lb. shot.
What is the weight of a shot put in the paralympics?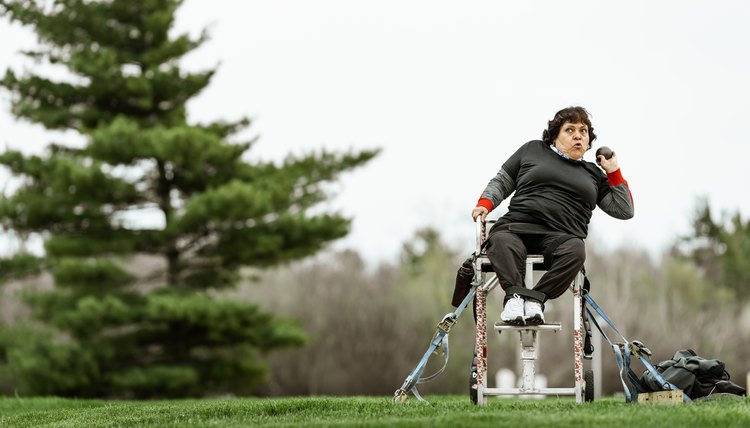 cherrus/iStock/Getty Images
Athletes with significant disabilities are classified by gripping ability, sitting balance, trunk control and standing ability. Competition rules govern how the wheelchairs are built and secured for shot putting. Regulations that determine if an athlete can stand or rise out of a chair are determined by the disability classification. Paralympic athletes use standard shot weights.
What is a shot put made of?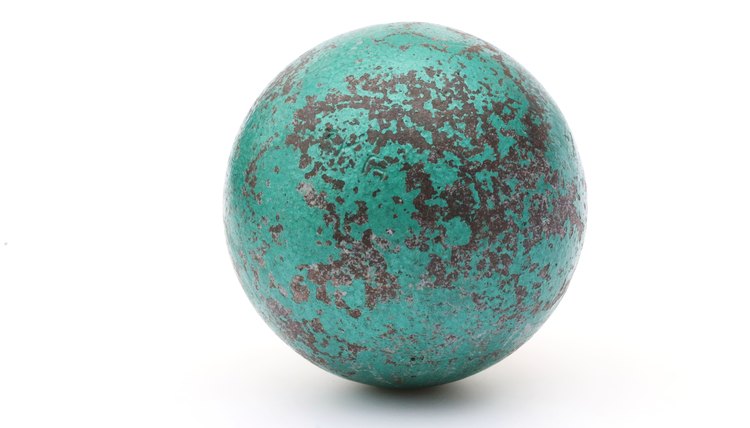 cherrus/iStock/Getty Images
In outdoor competition, shots must be made of brass or a harder metal. This can be cast iron, stainless steel, or the previously mentioned brass. For indoor competition, the shot put must be made of plastic with a metal shell containing metal pellets. At larger competitions, officials check to see whether shots meet the specified minimum and maximum diameters of shots for each weight class. The smallest shot is 4.4 lb., and should be 80 to 90 mm in diameter. The largest shots weigh 16 lb. and have a diameter of 110 to 130 mm. The officials inspect the shot to make sure it is perfectly round and has no indentations, which would help the shot putter grip it.
Who has the world record for shot put?
The record for longest shot put in a world athletics championship or competition was broken in 2023 by Ryan Crouser with a shot put of 23.38m. Crouser also holds the Olympic record which he broke during the 2020 Tokyo Olympics with a distance of 23.30m. For women's shot put, the record is 22.63m, which was broken in 1987 by Natalya Lisovskaya.
Writer Bio
Blaise is a Freshman at the University of Missouri, studying Journalism at the world-renowned J school. He is the host of the Fast Five Podcast with his Childhood friend Sam Sinclair and interns with the Sports AI platform Pine Sports. He is a huge fan of the Kansas City Chiefs and the St Louis. Cardinals and hopes to cover them professionally in his near future.