The Advantage of Indoor Soccer Shoes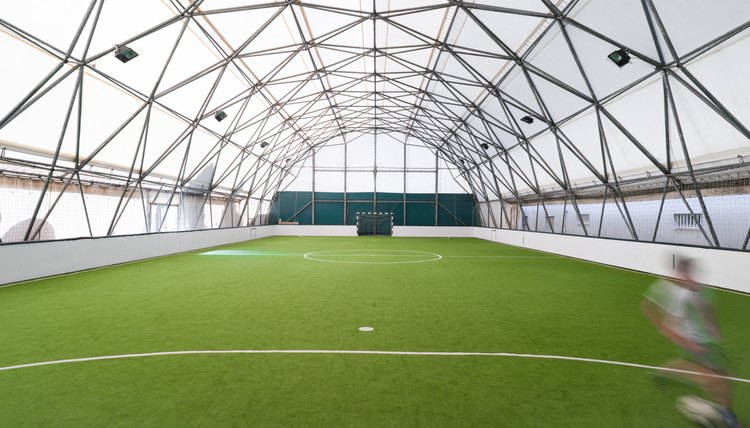 Players who try to play indoor soccer in tennis shoes or cross-trainers often find that they don't have sufficient control over the ball. That is because those shoes are not designed for indoor soccer. Indoor soccer shoes, which resemble tennis shoes with harder soles, give you more control and can help your game, whether you are a serious or a recreational player.
Features
Indoor soccer shoes, such as the market-dominating Adidas Samba, feature a gum rubber flat outsole and a kangaroo leather and suede upper. The heel is cemented to the upper. The tread pattern has interlocking triangles or a herringbone pattern under the ball of the foot for traction, a turning disk under the metatarsal and a dimpled tread heel. The shoes feature a low-profile fit.
Identification
Leading brands include Adidas, Nike, Puma, Umbro and Lotto, and 2013 prices range from $50 to $100. Many of the shoes come in basic black, but you can also find bright silver, hot lime, cherry, white and multicolor shoes. Weights range from 9 ounces to 12 ounces Indoor shoes often have a shot shield pane--either a smooth upper with a suede panel just above the outsole or rows of stitches to provide a quilted surface to add spin to passes and shots. The laces might be exposed and either centered or assymetrical, or hidden in the center under an extended tongue.
Function
Indoor soccer shoes must allow you to run forward, cut laterally and pivot, which is why they have a lower and different tread pattern than a running shoe. Indoor shoes are designed to play indoor soccer or futsal in a gym or on a turf indoor soccer field, according to the website Eurosport. Because indoor soccer shoes have less cushioning than running shoes do, indoor players often buy shoe inserts or gel heels to provide additional comfort.
Benefits
Indoor soccer shoes give you better control of the ball than running shoes and make it easier for you to do cuts and sprints. The rubber sole will not mark indoor surfaces and complies with indoor soccer facility rules against shoes with projecting plastic or metal cleats that might damage turf. Indoor soccer pitches feature a surface that typically mixes rubber granules and pile fibers in newer installations and a carpet-like material in older installations.
Types
Manufacturers also tweak the basic indoor soccer shoe to meet customer preferences. Nike5 Elastico, in a bright blue and green pattern, features enhanced dots for either a tacky or a smooth touch on the ball. Models such as the Puma PowerCat also feature an external heel counter, which is an extra layer of material to provide support. The Adidas F30 features a polyurethane synthetic upper and an EVA insole for comfort. Umbro Speciali Premier A comes with synthetic inserts, a tongue that fastens over the lacing and stitching to create a strike zone.
References
Writer Bio
An award-winning writer and editor, Rogue Parrish has worked at the Washington Post, the Baltimore Sun and at newspapers from England to Alaska. This world adventurer and travel book author, who graduates summa cum laude in journalism from the University of Maryland, specializes in travel and food -- as well as sports and fitness. She's also a property manager and writes on DIY projects.