The Difference Between Nike, Puma & Adidas Soccer Shoes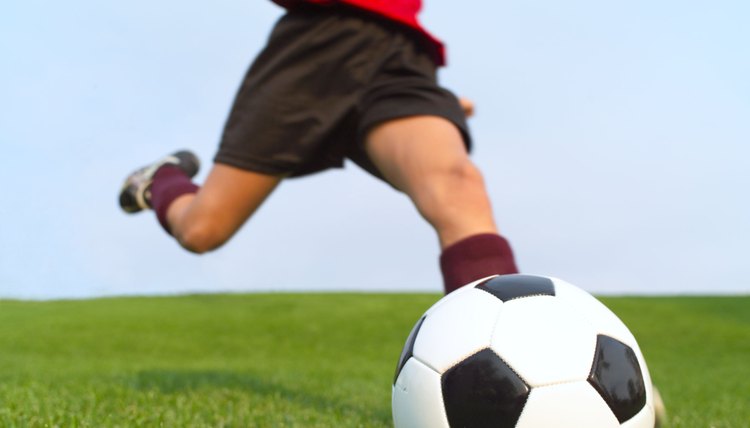 Adidas and Puma entered the shoe market after the owners of Dassler Brothers Shoe Factory, two German brothers Adolf and Rudolf, split ways. Adolf created Adidas from the original factory in the early 1940s while Rudolf created Puma in 1948. Nike introduced its first soccer cleats only in the 1990s. Adidas is best known for lightweight cleats. Puma dominates the indoor soccer shoe market while Nike is creating a niche for high-performance outdoor cleats.
Lightweight Feature
Adidas offers the best lightweight cleats among the three brands and specializes in ultra lightweight soccer shoes, featuring the HYBRIDTOUCH and semi-transparent SPEEDFOIL upper material, giving players a soft feel that allows them to dribble the ball easily. Puma features lightweight microfiber upper material for players to achieve more speed on the field. Nike features soft textured upper mold material which gives the soccer shoes its lightweight characteristic, offering high-speed control.
Indoor Play
When it comes to indoor soccer cleats, Puma leads all brands. Puma features multi-studded rubber outsoles specifically made for street and indoor surfaces. Puma features the speedCELL technology so players are faster and more responsive during indoor play. Adidas features the classic low-profile gum rubber outsole for indoor soccer, offering traction and ultimate control. For indoor play, Nike introduces two kinds of traction in the sculpted rubber outsole of its best indoor models. Although Nike has innovative technologies in its indoor soccer cleats, Puma provides stability and control at a more affordable price.
Outdoor Play
For outdoor play, Nike has the best soccer shoes, featuring an agility traction and split-toe plate for fast response and maximum responsiveness. Nike also provides the NikeSkin technology and All Conditions Control technology which give players a more natural touch and enhanced performance. Puma created shoes featuring one-way stretchable microfiber upper material that mimic barefoot kicking action so players can bend their feet as much as possible and add accuracy to shots. Adidas also has state-of-the-art technologies like TRAXION 2.0 stud configuration to achieve the right balance between stability and lightweightedness. Adidas has pre-molded protection pads in the heel and toe areas for better fit.
References
Writer Bio
Anthony Grahame has been a writer for more than 15 years. He began writing professionally online in 2008. He has a degree in English literature from the University of Sussex and is an experienced traveler and travel writer. His work has been published on a variety of well respected websites including "Living in Peru".