What Color Golf Balls Are Easiest to Track?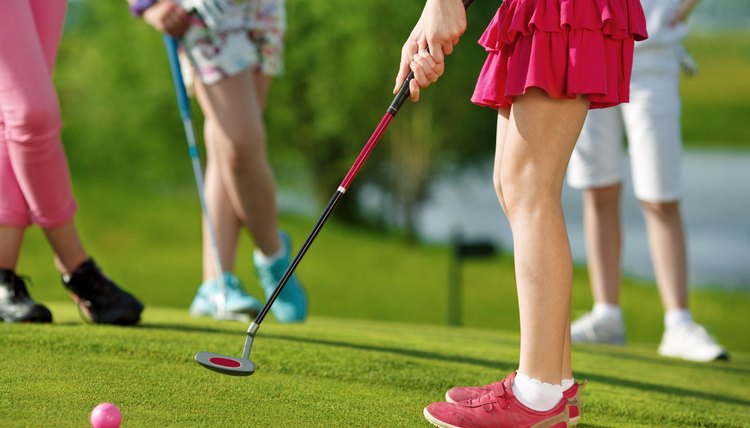 The iconic white golf ball has been around as long as the game of golf. White balls stand out nicely against lush green turf, but new golf ball colors are popping up all over driving ranges and in the professional golf circuits. Golfers use colored balls to add pizzazz to their game, but some colors may have a strategic tracking advantage over others.
Yellow a Popular Choice
The most common color, besides white, for a golf ball is bright yellow. Although some public ranges dye their balls yellow in order to keep ball snatchers at bay, bright yellow is considered an excellent choice for tracking and visibility against green grass. According to the brand manager at Srixon golf balls, yellow balls are three times easier to spot at a distance of 250 yards.
Best Colors for Snow and Nighttime
Bright orange is another fairly common color choice by amateur and professional golfers. Orange balls are highly visible and have been successfully used to win tournaments, however, they are currently not as popular as in the past. Historically, golf balls have been painted red to increase tracking and visibility during winter snow golfing, although golfers report yellow and orange work just as well for this purpose. Red balls may not be easy to spot at nighttime, thus playing under artificial lights usually requires using white or yellow.
Multicolored Balls Have Drawbacks
According to Bart Pfankuch, Everything Golf writer for the "Sarasota Herald-Tribune," multicolored balls are the newest golf craze. He does caution that these balls are difficult to track in the air or locate upon landing, thus actually reducing visibility. Bi-colored balls come in all sorts of shades and color combinations, but the color is only for fun. Multicolored balls will not harm your game performance, but they are not intended to improve ball tracking.
Novelty Ball Colors
In addition to orange and yellow, professional women golfers have also been spotted playing bright pink balls. LPGA star Paula Creamer, nicknamed the Pink Panther, often plays with a pink ball. The primary purpose of the pink balls is to have more fun while golfing. Manufacturers have taken notice of their popularity, increasingly promoting more pink and purple colored balls. Illuminated LED colored balls, for nighttime play on dark courses, are also available in a wide range of colors. These balls light up when struck and glow while soaring through the air. However, blinking balls are not recommended as they could be distracting, negatively affecting a player's performance.
References
Writer Bio
Cassandra Gailis lives outside of Anchorage, Alaska and began writing self-improvement articles in 2010. Gailis has extensive experience in professional grant writing, health research and international travel. She holds a Master of Science degree in health education from Minnesota State University.