Michael Jordan's Baseball History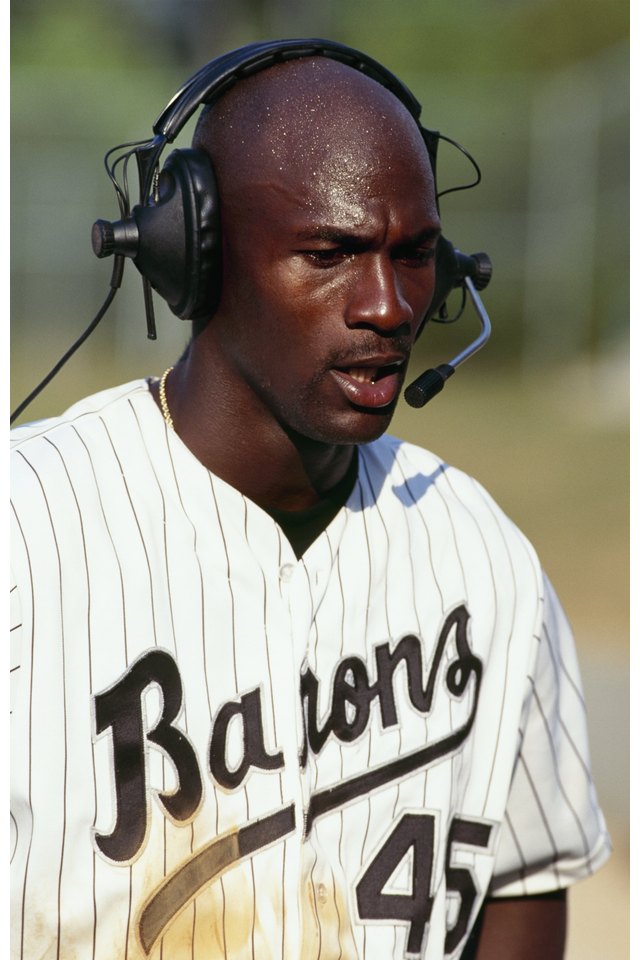 Although Michael Jordan is best known for his accomplishments as a professional basketball player, many also associate the former Chicago Bull with the sport of baseball.
This is because of his short stint as a member of the minor league Birmingham Barons, an affiliate of the Chicago White Sox.
While Michael Jordan's baseball career was not as successful as his basketball career, it is noteworthy because of Jordan's ability to display a high level of skill in multiple sports and his sudden retirement from his prestigious basketball career.
Why did Michael Jordan switch to baseball?
Michael Jordan was on top of the world in 1993. He had just won his 3rd NBA championship in a row as a member of the Chicago Bulls and his shoe deal with Nike and performance on the court made him an international superstar. But his massive celebrity and media circus surrounding him began to weigh heavily on him.
However, the biggest thing that pushed him towards baseball was the death of his father in a robbery on July 23, 1993. When Jordan was a young boy, he shared a deep love of baseball with his father James.
So, in tribute to his father, he decided to retire from basketball and sign a minor league with the Chicago White Sox. The decision of basketball's star switching sports entirely was incredibly shocking at the time.
When was Michael Jordan's debut in Baseball?
Michael Jordan played his first game for the Birmingham Barons on April 8, 1994. Despite the notoriety, Jordan's baseball career did not get off to a good start, going 0 for 3 at the plate, and the Barons lost 10-3.
However, according to Sports Illustrated, the impact on the team was immediate. Jordan's fame fueled uncharacteristically high attendance numbers and minor league baseball highlights found a prominent place on ESPN.
What were the highlights of Jordan's baseball career?
Although his baseball career wasn't incredibly successful. He did have his fair share of milestones and highlights as a member of the White Sox minor league system.
March 4th, 1994: Jordan makes his debut as a member of the White Sox roster in Spring Training
April 7th, 1994: Jordan plays in his first MLB game; an exhibition at Wrigley Field against the Cubs. He went 1 for 3 with an RBI

April 8th, 1994: Jordan makes his debut as a member of the AA Birmingham Barons

July 30th, 1994: Jordan hits his first career home run. The first of three he would hit over his minor league career
October 6th, 1994: Jordan makes his Arizona Fall League debut going 4 for 5 with two RBI's.

What were Jordan's baseball Season Statistics
In 127 games for the Birmingham Barons, Jordan had 88 hits in 436 at-bats, earning a batting average of .202. Jordan finished the season with three home runs and 51 RBI. Jordan scored 46 runs and stole 30 bases in his only season playing baseball.
When did Jordan return to basketball?
After his relatively unsuccessful season playing baseball and after the 1994 baseball strike, Jordan decided to return to the NBA. Jordan issued a press release on March 18, 1995, that stated simply, "I'm back," and returned to the Chicago Bulls the next day. Jordan would don his baseball number 45, and would make his return against the Pacers. He would score 19 points after his hiatus and would go on to lead the Bulls to an Eastern Conference Semifinals appearance. The Bulls would lose to the Orlando Magic in six games to end their season
References
Writer Bio
Brian Willett began writing in 2005. He has been published in the "Buffalo News," the "Daytona Times" and "Natural Muscle Magazine." Willett also writes for Bloginity.com and Bodybuilding.com. He is an American Council on Exercise-certified personal trainer and earned a Bachelor of Arts in journalism from the University of North Carolina.