How Has the Equipment of Basketball Changed Over the Years?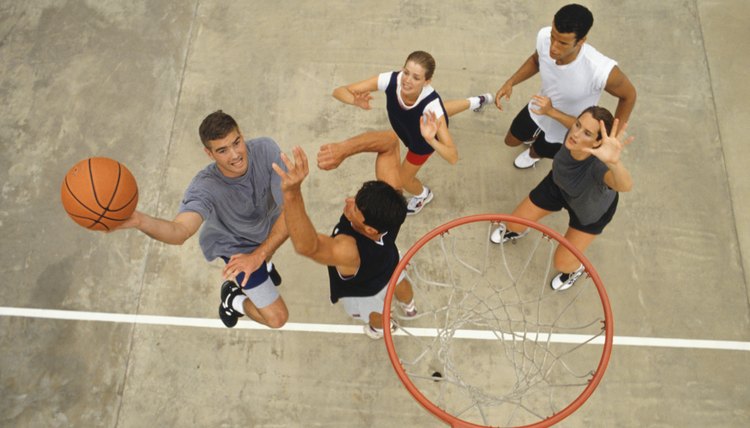 Basketball equipment has evolved in many ways since Dr. James Naismith invented the sport in 1891 in Springfield, Massachusetts. Originally designed as an indoor game of skill for YMCA athletes, basketball is now one of the top four most popular sports in North America. The design and production of basketball equipment has expanded to keep up with the sport's evolution.
Hoop Evolution
When the first player of basketball poised to throw, he was aiming at a wooden peach basket hung 10 feet above the floor. Players had to use a ladder to remove the ball from the basket after every shot made. Metal rims with nets soon replaced the wooden baskets, and players cut holes in the nets in 1906 to allow the ball to pass straight through the hoop. The hoop's height has remained at 10 feet above the court ever since the inception of the game.
The First Balls
Players used a soccer ball in the first basketball games played at the Springfield YMCA. Three years later, Naismith contacted A.G. Spalding & Bros. and requested that the factory produce a new ball specifically designed for his sport. Early Spalding basketballs consisted of four leather panels with a rubber bladder inside. Factory-produced molded basketballs with a consistent size and shape did not appear until 1942.
Better Grip
The National Basketball Association used four-panel basketballs until 1970, when the league adopted eight-panel basketballs. In 1983, the NBA announced its adoption of the Spalding full-grain leather basketball as its official game ball, which it continued to use until 2006. That year, the NBA introduced the microfiber composite Spalding Cross Traxxion ball as its official game ball. The new Spalding ball has two interlocking cross-shaped panels rather than the traditional eight panels. Its microfiber material gives it better grip and consistency, according to NBA.com.
Pump It Up
Basketball shoes have evolved significantly since the early 20th century, when canvas shoes with rubber soles dominated the game. Converse's Chuck Taylor basketball shoes dominated the market from 1921 until the 1960s, when leather shoes began to appear. Nike released its first basketball shoes in 1972 and began to dominate the market in the 1980s with a series of technological advancements. Nike's Air Force 1 shoe, with air sole technology designed by Bruce Kilgore, appeared in 1983; and the Air Jordan I and Air Jordan II shoes, inspired by Michael Jordan, appeared in 1983 and 1985. In 1988, Nike released the Air Jordan III, the first basketball shoe with a visible air unit on the heel. Reebok introduced a similar shoe in 1989, called The Pump.
References
Writer Bio
Lisa Porter began writing professionally in 2009. She writes for various websites and has a Bachelor of Arts in English literature.