Meal Plan for Football Athletes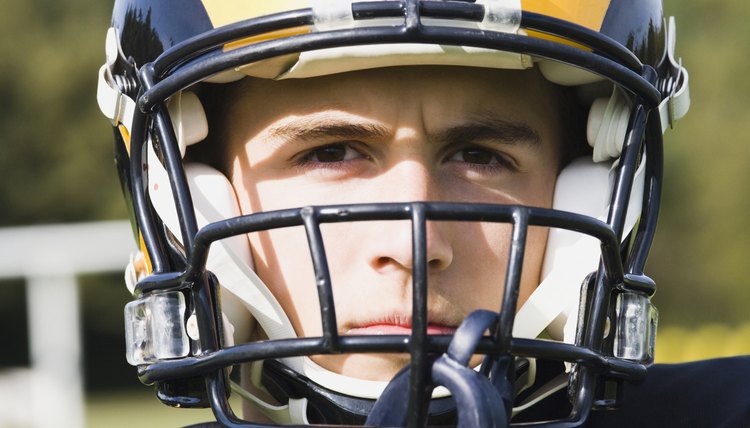 You can practice hundreds of different plays, spend hours in the weight room and run as many 40-yard dashes as you like, but if your nutrition isn't on point, you'll struggle as a football player. Making sure you've fueled your body with enough nutrient-dense, energy-providing foods to ensure that you perform at optimum levels in both practice sessions and in actual games.
Go Big at Breakfast
Every football player needs a big breakfast, notes certified strength and conditioning specialist Jim Carpentier at Stack Performance Center. You need protein, carbs and fat at breakfast, but you should leave at least two hours between eating and playing to let it begin to digest properly. You can either opt for a whole-food meal, such as scrambled eggs with peanut butter on toast, some fruit and a glass of milk, or drink a liquid breakfast with a high-protein, high-carb smoothie consisting of protein powder, chocolate milk, nuts, fruit and yogurt.
Light Lunch
If you're eating lunch before training or a game, you don't want the food to sit too heavily in your stomach, but you need to eat enough for energy. This means eating carb-dense foods along with a little protein. In an interview with The Daily Meal, Peyton Manning notes that his favorite pre-game meal is grilled chicken, a baked potato, pasta with marinara sauce and broccoli, while Willie Anderson opted for oatmeal, fruit, a baked potato and some sausage. Both players also included sports drinks for extra carbs. In contrast, quarterback Sam Bradford prefers to keep it simple by eating a plateful of fruit.
Dig in to Dinner
Aim for enough proteins, carbs and fats in combination to help you repair and recharge after a hard day of playing. Registered dietitian Mitzi Dulan, former team nutritionist with the Kansas City Chiefs, advises that you base your meals around lean proteins, plenty of vegetables and whole grains. For dinner, have a large mixed salad with a baked salmon fillet or a grilled turkey steak with carrots, broccoli and asparagus. Add some sweet or white potatoes, squash, brown rice or whole-wheat pasta for extra carbs.
The Individual Factor
Your diet may differ completely from other football players. Let your goals, the position you play, and how much you train dictate how much and what kind of food you eat. If you're trying to lose weight to get lighter, leaner and faster, you may want to cut down on your starchy carb, sugar and fat intake to help drop a few pounds. If you need to gain some mass and bulk up, you may need a mega menu, with big meals and plenty of calorie-dense snacks. As an extreme example, Jordan Black, formerly of the Houston Texans and Jacksonville Jaguars, ate 7,000 calories per day to get to his ideal weight as an offensive tackle.
References
Writer Bio
Mike Samuels started writing for his own fitness website and local publications in 2008. He graduated from Peter Symonds College in the UK with A Levels in law, business and sports science, and is a fully qualified personal trainer, sports massage therapist and corrective exercise specialist with accreditations from Premier Global International.