The Diets of Olympic Wrestlers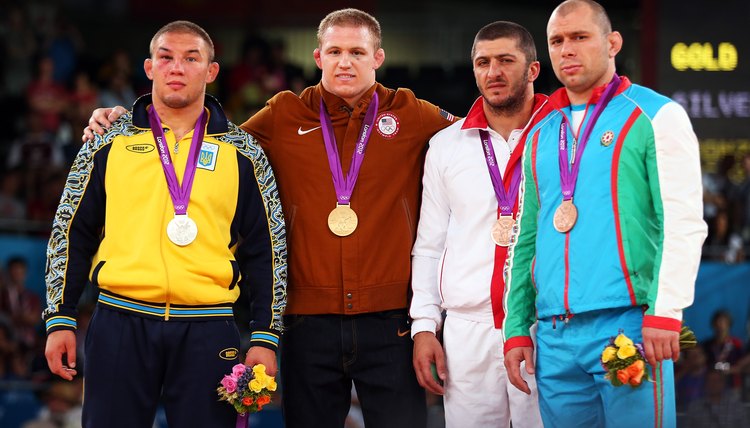 For an Olympic wrestler, preparation for the six minutes on the mat is not an event, it's a lifestyle. In addition to constant training -- sometimes all seven days of the week -- these athletes must adhere to strict diets to fit into one of the 18 freestyle and Greco-Roman men's and women's weight classes offered by the Olympic games. While each wrestler is different, dietary basics apply virtually across the board.
Basics
The diet of an Olympic wrestler focuses on two main pillars: protein for building muscles and complex carbohydrates for providing energy. Lean protein and amino acids, typically from meat sources, specifically help athletes "make weight," while athletes take in carbs just before training to fuel these intense sessions, which may last up to eight hours per day. These diets are low in fat and contain a balanced amount of nutrients.
Foods
Lean meats such as chicken, turkey, tuna and lean ground beef often help wrestlers meet their protein requirements, as do large helpings of eggs in the morning. Pasta, whole-wheat breads, grains, cereals and rice bring the complex carbohydrates to the table. Cooked vegetables and fruit provide nutrients and simple carbohydrates. In addition to a gallon or more of water per day and ample servings of high-protein low-fat milk, Olympic wrestlers may accent their diets with carb- and electrolyte-heavy sports drinks.
Meal Schedule
Three large meals per day is not uncommon for an Olympic wrestler, although some may opt for a larger number of small meals, especially during training. During training, Olympic wrestlers stay up to 12 pounds over their desired weight class to maintain high energy. They typically begin the slimming process months before weigh-in via smaller portions, elimination of junk food and reduced water weight. Olympic wrestlers often load up just before the match; wrestlers generally eat a carb- and protein-loaded meal the night before the match, because they are weighed in at this time. Wrestlers typically take in a small high-carb meal three or four hours before competing and a large high-carb meal 15 to 30 minutes after the match.
Meals of the Olympians
United States Olympic freestyle wrestler Andy Hrovat recommends a pre-weigh-in meal consisting of a large plate of chicken and pasta for lean protein and healthy carbs, respectively. American gold-medal winning Olympian Jordan Burroughs touts soup for its high fiber and nutrient content, noting that it also replaces the sodium lost during training. For the 2012 Olympics, the Olympic Training Center in Colorado Springs served Team USA wrestlers a three-egg omelette with diced chicken, mushrooms and hot peppers. Vegetarian Olympic wrestler Sushil Kumar of India relies on foods such as milk, almonds, yogurt, bread, fruits and vegetables in addition to protein supplements and multivitamins.
References
Resources
Writer Bio
Dan Ketchum has been a professional writer since 2003, with work appearing online and offline in Word Riot, Bazooka Magazine, Anemone Sidecar, Trails and more. Dan's diverse professional background spans from costume design and screenwriting to mixology, manual labor and video game industry publicity.