Similarities & Differences Between Soccer & Football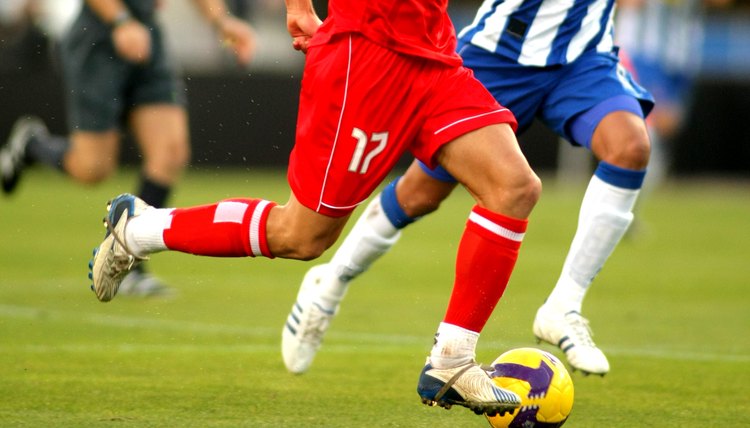 Millions of passionate fans follow two ball sports, one the favorite of Americans and the other the favorite of the world. Each is played on a large rectangular field and based on rules that evolved in the 19th century. "Soccer is a gentleman's game played by beasts. Football is a beastly game played by beasts," opined Henry Blaha, a Boston College football player, in 1972. Indeed, soccer is merely a contact sport, one that girls and women have made stellar progress in as players. Football meanwhile, a collision sport, becomes at times genuinely violent.
Similarities
Both sports feature two opposing squads of 11. Soccer players form a single unit, while football players are assigned to offense, defense or special teams. A regulation football field is 100 yards long by 53 yards wide. A soccer field is slightly larger, ranging from 100 to 130 yards long and 50 to 100 yards wide. Football fields feature markings every 10 yards and hash marks for single yards, while soccer fields mark out a kickoff circle, a midfield line and two penalty areas. Each sport features a playmaker, typically the quarterback in football and the central midfielder in soccer. Offside rules in each sport require the team on offense to move down the field in rough unison, employing clever tactics rather than cherry-picking to elude the defense. Kickers and punters in football typically kick the ball using the laces of their shoes, soccer style.
Differences
Soccer play proceeds continuously through two 45-minute halves, while football consists of pauses of as long as 40 seconds between each play in the game, which lasts for four 15-minute quarters. In soccer, only goalkeepers can legally use their hands to touch the ball. Outdoor league soccer played under the rules of FIFA, the international governing body of soccer, only permits three substitutes per game, while football allows unlimited substitutions during stoppages in play. Tackles that are legal in American football would constitute a foul in soccer. Soccer players wear jerseys, shorts, shinguards and cleats, while football players wear uniforms, helmets and shoulder pads.
Scoring
Scoring in football requires the ball to break the plane of the end zone for a six-point touchdown or two-point conversion. The ball must go through the goalpost uprights for a kick to count as an extra point or three-point field goal. In soccer, the ball must fully cross the goal line between the goal uprights and under the crossbar to count as a goal. Soccer fans roughly equate a one-point soccer goal to a touchdown and extra point, such that a 4-2 soccer game translates into the same amount of offense as a 28-14 football game.
Championships
As of 2011, the 208 member nations of FIFA compete to qualify for the quadrennial World Cup to determine the world champion of all national teams. Club teams compete in regional cups to determine the best team in Europe, Africa, South America and other FIFA regions. The American football champion is determined in the Super Bowl, the annual February matchup of the champions of the NFC and AFC, conferences with 16 teams each. All the players in the NFL are professionals, while World Cup can include amateurs; New Zealand's undefeated team in the 2010 World Cup, for example, included amateurs and managed to tie Italy's pros.
References
Writer Bio
An award-winning writer and editor, Rogue Parrish has worked at the Washington Post, the Baltimore Sun and at newspapers from England to Alaska. This world adventurer and travel book author, who graduates summa cum laude in journalism from the University of Maryland, specializes in travel and food -- as well as sports and fitness. She's also a property manager and writes on DIY projects.