Differences & Similarities Between American & European Soccer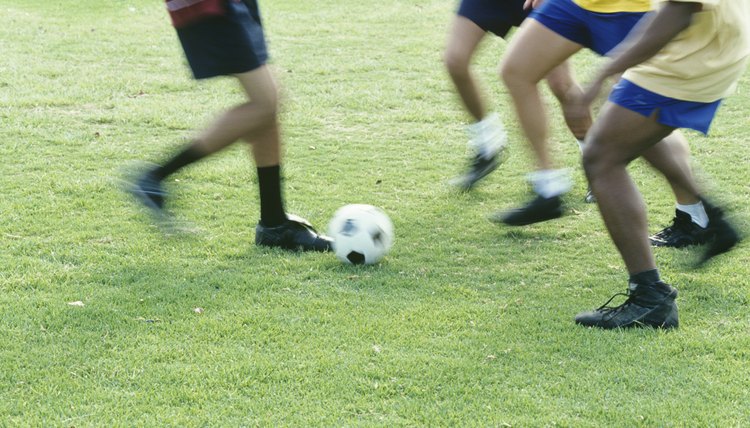 In its early years, Major League Soccer in the United States briefly modified FIFA's Laws of the Game to avoid ties in the regular season. As of 2010, soccer in the United States had dropped this and other modifications to stay in step with FIFA. Therefore, the essential game of soccer is identical in the United States and Europe in terms of rules a player or a fan needs to understand, though the competition level of European leagues is more demanding.
Time Frame
Professional soccer leagues in Europe, such as the Barclays Premier League in England, Serie A in Italy, La Liga in Spain and the Bundesliga in Germany, typically run from mid-August until the end of May. In the United States, Major League Soccer begins in mid-March and concludes in November. A playoff determines the champion of U.S. soccer. In Europe, a team can aim for being champion of the league based on having the best regular-season record and also vie to win national and Europe-wide cups or tournaments. Soccer teams that perform poorly are relegated to lower divisions in Europe, and top teams advance to higher ones.
Structure
Owners of professional soccer teams in Europe have significant latitude to spend to improve the quality of player and game presented on the pitch. Wealthy owners, such as Roman Abramovich of Chelsea or Massimo Moratti of Inter Milan -- both oil magnates, underwrite transfers of the world's top stars to their clubs. In the United States, Major League Soccer teams share revenues and operate in what is known as a single-entity structure. While teams have owners, the players sign their contracts with the league.
Playing Styles
Teams in the United Kingdom and elsewhere in Northern and Eastern Europe traditionally play what is called long ball, bringing the ball down the flanks and crossing it into the air so tall forwards can head it into goal. Spain and Italy play classic possession football, as smaller agile players try to connect strings of short passes in artistic fashion for a shot on goal from close range. The United States tends to play a hybrid form of soccer, emphasizing conditioning and possession, with elements of polish attained by the loan or sale of top players such, as Landon Donovan to clubs in Europe.
Player Development
Major League Soccer in the United States relies on finding college standouts to groom for the professional ranks. European clubs scout, sign and develop their own players beginning at ages 10 to 14. Select young players in Europe can take advantage of lavish club facilities, such as Arsenal's training center in the Hertfordshire countryside, with 10 manicured fields, two with undersoil heating, and top staff to advise on skills, strength training, tactics, psychology, diet and rest.
Cultural Impact
Soccer, known as football in many cultures, is by far the No. 1 sport in Europe, such that most sports fans display considerable loyalty to either their local team or a national standout club such as Manchester United, Juventus or Barcelona. In the United States, soccer at the professional level lags behind sports such as football, basketball and baseball in television ratings and attendance. Yet soccer is played by more people, 24 million, in the United States than in Germany with 16 million, Italy with almost 5 million, France and England with 4 million each and Spain with almost 3 million.
References
Writer Bio
An award-winning writer and editor, Rogue Parrish has worked at the Washington Post, the Baltimore Sun and at newspapers from England to Alaska. This world adventurer and travel book author, who graduates summa cum laude in journalism from the University of Maryland, specializes in travel and food -- as well as sports and fitness. She's also a property manager and writes on DIY projects.