Which Sport Provides the Best Overall Exercise for the Entire Body?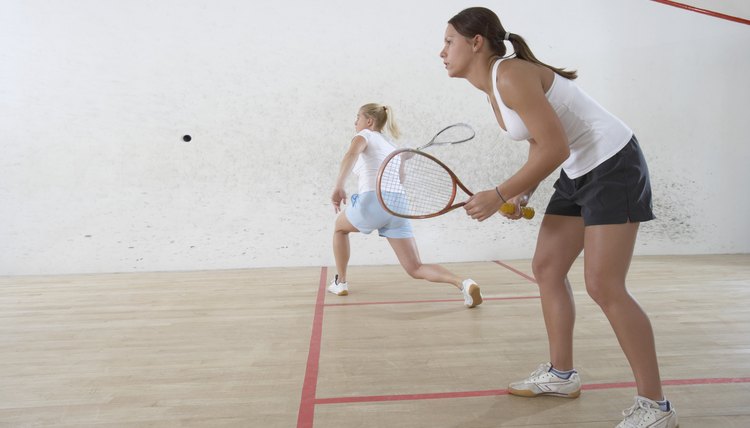 Debating the best sport for exercise for the overall body is a bit like discussing whether you like Mary Ann or Ginger -- or even Gilligan -- best on "Gilligan's Island." No definitive answer exists. Still, qualified experts including "Forbes" magazine, ESPN.com and other organizations have gathered experts to assess possible candidates for the best sport.
The Winner Is ...
It has been a while since "Forbes" came out with its ratings in 2003, but they were based on consultations with a broad range of personal trainers, athletes, coaches and exercise physiologists. For each sport, "Forbes" looked at four components of fitness: cardiorespiratory endurance, muscular strength, muscular endurance and flexibility -- as well as injury risk and calorie burn. Squash, an indoor racket sport that demands agility, speed and endurance, came out on top. Forbes' experts also gave high marks to rowing, swimming, cross-country skiing, basketball, cycling, running and boxing. While arguably not sports per se, rock climbing and the modern pentathlon also made the list.
But In This Corner …
Speaking of boxing, though, a panel of eight experts convened by ESPN in 2004 went in a different direction to "Forbes." The sports scientists, athletes and journalists voted boxing tops for its blend of endurance, strength, power, speed, ability, flexibility and other elements of athletic skill. Team sports rounding out the ESPN Top 10 include ice hockey, football, basketball, baseball/softball and soccer, while individual sports include wrestling, martial arts, tennis and gymnastics.
Can You Do a Front Handspring?
And speaking of gymnastics -- this most demanding sport for physical strength and flexibility -- rated tops among sports in a 2012 piece by Gawker staff writer Hamilton Nolan and also in a 1996 "Men's Fitness" evaluation. While Nolan facetiously ranked his sports on "overall hardcoreness" and potential humiliation to newbies -- and he scored the non-sport of working out on a super squat machine higher than gymnastics -- "Men's Fitness" also gave kudos to the mental toughness and difficulty of gymnastics. There's little arguing even today with the conclusion by "Men's Fitness" that few things are more difficult -- or more of a total-body exercise -- than spinning in circles on the high bar, flipping and grabbing the bar again.
Or Pick Your Own
You can cut through all the conflicting votes for squash, boxing and gymnastics -- all worthy nominees -- and pick one of them or something else as your own favorite. If you love soccer, rowing, tennis or martial arts, and approach your favorite with intensity, you're more than likely to attain excellent overall exercise. Pick a sport based on your own personal enjoyment and objectives, and feel free to debate football players that soccer is better, or soccer players that you think tennis rocks.
References
Writer Bio
An award-winning writer and editor, Rogue Parrish has worked at the Washington Post, the Baltimore Sun and at newspapers from England to Alaska. This world adventurer and travel book author, who graduates summa cum laude in journalism from the University of Maryland, specializes in travel and food -- as well as sports and fitness. She's also a property manager and writes on DIY projects.