Learn Gymnastics Online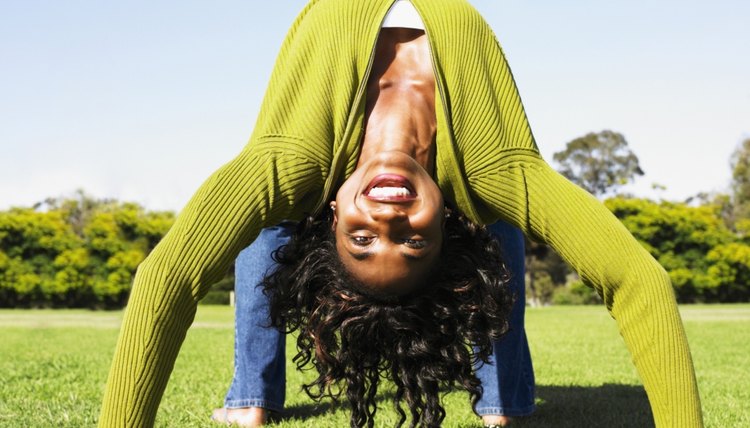 Gymnastics is a sport involving the performance of various stunts and requires high levels of strength, flexibility, and endurance. Because of the highly involved tricks often associated with the sport, it has been most commonly taught in a traditional gymnastics studio under the guidance of a skilled coach. However, advancements in technology have made gymnastics training available online making it easy for beginners to learn the basics of the sport. While the fundamentals of gymnastics can be learned online, it is still important to practice caution to avoid injury.
Gymnastic Bodies
Gymnastics Zone is an online source that includes videos and safety tips for gymnasts of all levels. It is run by USA National Gymnastics Coach, Christopher Sommer. Online membership gives access to gymnastic workout plans focusing on strength, flexibility, and core muscles necessary for performing some of gymnastics' more popular moves. The website also includes a forum, safety tips, instructions for moves and advice from coaches. In addition to videos, the website offers articles discussing nutrition and work out plans for aspiring gymnasts to follow.
CosmoLearning
For beginner gymnasts looking for online courses that progress with their skill level, Cosmo Learning is a useful site. Former German National Gymnastics Champion, Sibylle Waters, provides instructions for 20 basic positions for novices. The videos are about two minutes long and cover each step necessary to complete fundamentals necessary for executing several intricate gymnastics tricks.
USA Gymnastics
USA Gymnastics, the governing body of gymnastics in the United States of America, offers online courses for gymnasts under the name of Gymnastics University. Gymnasts and instructors can learn the basics of gymnastics as well as the necessities to performing or teaching gymnastics in the competitive, recreational, or professional levels. Some topics covered include technique, dealing with concussions, stretching exercises and different tumbles.
Gymnastics Revolution
Gymnastics Revolution is a Connecticut based gymnastics training center committed to preparing students for regional and national competitions as well as teaching technique to those new to the sport. The training center's website provides illustrated guides on how to various gymnastics moves practiced on the floor, beams and vault. Along with video explanations, site visitors can find written step-by-step instructions to tricks including split jumps, handstands, cartwheels and dismounts.
References
Writer Bio
T. Marice Huggins has been published several times in both the New York and New Jersey editions of "Contemporary Bride Magazine." She has also been published in national publications such as "Redbook," Dance Magazine" and "Caribbean Travel and Life." Thanks to extensive dance training in college, she is very well-versed in the areas of health and fitness.