Beginner Biking for Weight Loss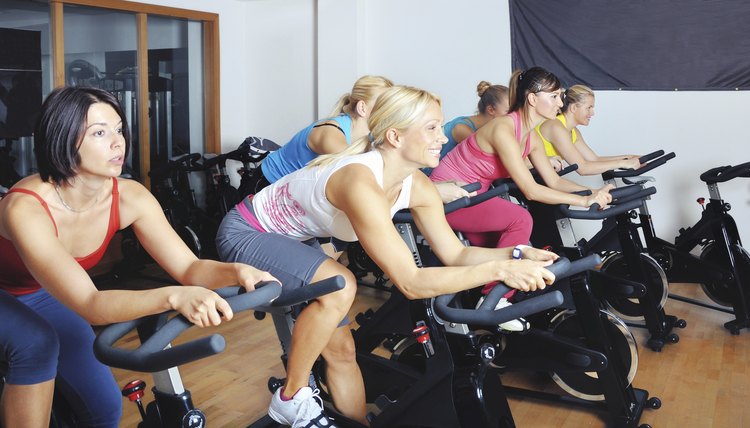 If you are trying to lose weight, starting a biking program can help you burn calories and build muscle with little impact on your joints. On a bike, you can go farther and faster than walking or running. If you are new to exercising, talk to your doctor first and begin slowly to build your endurance and avoid injury. Buy a quality helmet as well as padded shorts to provide cushioning on long rides.
Burning Calories
Aerobic exercise, such as riding a bike, increases your heart and breathing rates and burns calories, which will help you to lose weight. Each 3,500 calories you burn means 1 pound of weight loss. Your body uses calories to perform its daily tasks, but if you want to lose weight, you need to burn more calories than you consume. Biking, even for short periods of time, will use calories and increase your weight loss chances. In her book, "Ride Your Way Lean," Selene Yeager states that you burn calories on a bike even if you do not feel like you are working very hard. A 155-pound person will burn approximately 596 calories riding at 12 to 13.9 mph pace for an hour. The faster you go, the more calories you will burn. Aim to ride 30 to 60 minutes for five to seven days a week.
Cadence
Cadence is your pedaling speed, measured in revolutions per minute, or rpm. Pedaling a bike will use both your cardiovascular system, which pumps oxygen to your muscles, as well as your muscular system. Finding a balanced cadence that will work both systems without burning you out is crucial, especially when you are just starting a biking program. Pedaling at a lower gear with a higher cadence will spread out your workload and make it easier for you to build your endurance. Longer rides burn more fat calories than shorter sprints.
Interval Work
Although long, lower intensity rides can burn calories faster, you can participate in interval training to expend even more calories. Interval training combines riding at a comfortable speed for a set period of time with short bursts of intense speed or resistance; pushing you beyond your comfort zone, increasing your endurance and strength thresholds. Your may be up to 80 percent of your maximum heart rate during the intense interval. It's up to you how you order your interval training. You could ride normally for five minutes and then sprint for one minute and then revert to a comfortable speed for the next four to five minutes. Developing a riding program that incorporates both endurance and interval rides, as well as rest days, will help you achieve weight loss more easily.
Tips For Beginner Riders
Starting to ride a bike with gears over varying terrain can seem like a daunting task. Yeager advises getting to know your gears and shifting often. Unless you live in an area that is extremely flat, you will need to shift up or down frequently during your ride. Downshifting takes you to an easier gear, allowing you to pedal uphill more easily or give your legs a break. Shifting up into a higher gear will give you more power, which you will need to move faster. Focus on your pedaling technique as well; you should push down on the pedal as well as pull up, making your motion fluid and energy-efficient. Once you feel comfortable, you can buy clipless pedals that keep your foot attached to the pedal, increasing your pedal efficiency. Yeager also advises starting slowly and not being hard on yourself. Your endurance and strength will improve with time.
References
Ride Your Way Lean; Selene Yeager
Writer Bio
Christy Callahan has been researching and writing in the integrative health care field for over five years, focusing on neuro-endocrinology. She has a Bachelor of Science degree in biology, earned credits toward a licensure in traditional Chinese medicine and is a certified Pilates and sport yoga instructor.