The Body Types of Soccer Players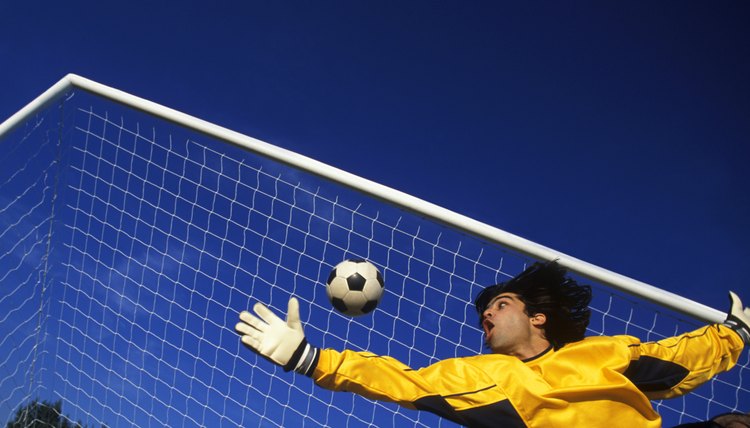 Soccer players at the highest levels have plenty of excuses to take their shirts off and show off impressive six packs. Chelsea's Didier Drogba and Real Madrid's Cristiano Ronaldo memorably posed for Annie Liebowitz on the cover of Vanity Fair to publicize the 2010 World Cup. U.S. women's team standout Brandi Chastain displayed her black sports bra after kicking the winning penalty in the 1999 Women's World Cup. Players will even risk a yellow card by stripping off their jerseys after a goal. You don't need to be a perfect Adonis or Aphrodite to succeed at recreational soccer, which welcomes all shapes and sizes.
From Tiny to Mighty
At a professional televised game, the camera scans down the row of players for each team awaiting the start. At a 2011 match between European powers as Barcelona and Manchester United, for example, the camera jumped down to tiny but relentless Barca forward Lionel Messi, at 5 feet, 7 inches tall, and back up to lanky former Man U goalie, Edwin van der Sar, 6 feet, 5 inches tall and with a tremendous wing span. Soccer players range between Messi and van der Sar in height and overall physique. An exception would be a tall, thin player such as Englishman Peter Crouch, a journeyman who has played on more than 10 teams. He stands at 6 feet, 7 inches, and weighs only 156 pounds.
Just Under 6 Feet
A review of the European soccer labor market conducted by the International Centre for Sports Studies in Switzerland collected demographic and physical data on professional soccer players, published in 2009. Their average height was 5 feet, 11 1/2 inches tall. Germany's pros average 6 feet at the tallest end of the spectrum, and Spain's are the shortest at 5 feet, 10-3/4 inches. Goalies average 6 feet, 2 inches, midfielders, 5 feet, 10-3/4 inches, and forwards and defenders are right around 5 feet, 11-1/2 inches.
Typical U.S. Standouts
The U.S. doesn't collect such extensive statistics. But men's national team standout and LA Galaxy player Landon Donovan displays a typical average height and lean build at 5 feet, 8 inches and 158 pounds. The U.S. women's national team as of February 2014 ranged from defender Crystal Dunn at 5 feet, 1 inches in midfield to Abby Wambach, a 5 feet, 11 inch forward.
The Ideal Build
While a theoretical ideal balance might exist for body height, speed and center of gravity in soccer, "in reality this is not so obvious," writes Richard Witzig in "The Global Art of Soccer." Great male players have ranged from 5 feet, 6 inches to 6 feet, 2 inches tall, a build that includes an estimated 95 percent of the world's adult male population. Soccer players rarely weight above 200 pounds though, "as the physical demands of the sport dictate that players cannot carry that weight and compete" for 90 minutes or more, he writes. Professional basketball and American football players, by contrast, require levels of brawn and height that exclude all but 10 percent of the adult male world population, Witzig notes.
References
Writer Bio
Brandon Mentore has been a health coach and strength and conditioning specialist for over 15 years. He has worked with hundreds of people in his career on health, fitness, nutrition, supplementation and more. He constantly educates himself so he can share with others and is always on the cutting edge of health.