Should I Wear a Girdle Under Football Pants?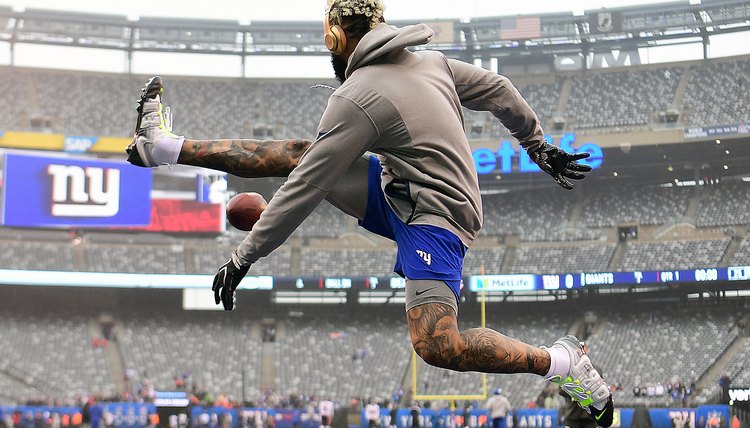 American football is an aggressive, physical sport that requires an exceptional amount of speed and agility at various offensive and defensive positions around the field. The physical nature of the sport makes football pads and other pieces of equipment extremely important to protect football players, hence why there is constantly new developments and new research going into new equipment.
One piece of equipment that is essential to protecting a football player's lower body is the girdle. Once a standard piece of equipment, some players moved away from the girdle because of how much it prohibited them from moving freely, affecting their speed and agility on the field. New materials and design technology, however, have allowed the girdle to become more protective of the player without restricting their movement.
Football Girdle Description
The football girdle is a thin sleeve of material worn under football pants that has stitched pockets to hold various pads:
A protective cup

Thigh pads

Hip pads

Tailbone pad
Girdle Benefits
Whether a football player finds wearing a girdle restrictive or not, no one can deny that the benefits of wearing one far outweigh the negatives. A running back, for example, is hit on nearly every play by linebackers and defensive linemen coming at full speed, diving for their legs and hoping to bring them to the ground. Wearing a girdle, a running back is far more likely to have the proper padding in place to protect their lower body; the same goes for quarterbacks, wide receivers, and defensive backs who wear a girdle.
The stitched pockets for pads are able to hold the thigh pads, hip pads and tailbone pad in place upon player movement and contact, maintaining that they are in the correct place when they need to be. Without a girdle, pads are far more likely to shift out of place, exposing the body to injury upon hard contact.
Newer versions of girdles are even double-padded in certain areas that are identified as key contact points, offering double the amount of protection for areas of the legs that are more likely to be hit upon contact being made between two football players.
Special Features
​Materials:​ Girdles are made from compression material, allowing it to flex and move with the body

​Fabric Design:​ Girdles' designs often deliver improved air flow and moisture wicking to keep the athletes cool and dry, while antimicrobial fibers help reduce odor

​Reduced Weight:​ Many newer girdles feature a series of small hexagon-shaped foam pads stitched directly into the girdle to protect the hips and tailbone, which allow for protection without the weight of a bulky external pad
Reasons to Wear a Football Girdle
When deciding whether or not to wear a football girdle, weigh your need for comfort against your desire for protection. The potential for injury is not worth the slight feeling of restriction that some football players may experience. With how developed technology in this field has become, making the decision to not wear a girdle leaves an unnecessary risk of major injuries in a physical sport.
References
Writer Bio
William Lynch has been a freelance writer for the past fifteen years, working for various web sites and publications. He is currently enrolled in a Master of Arts program in writing popular fiction at Seton Hill University. He hopes to one day become a mystery novelist.