Should I Wear a Girdle Under Football Pants?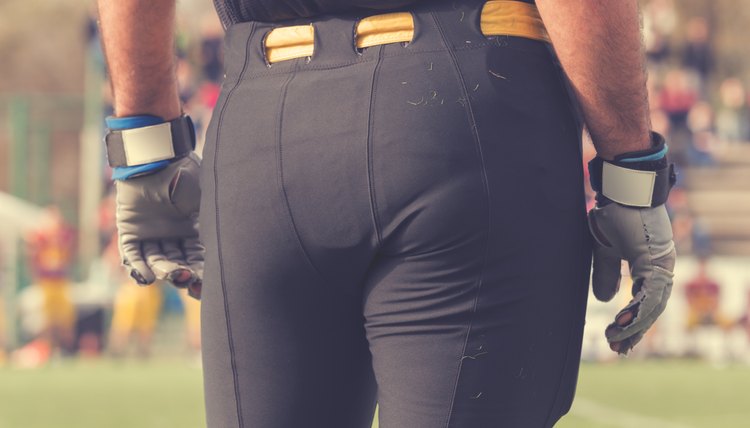 Football involves aggressive physical contact, but also requires speed and agility. Equipment manufacturers strive to find new ways to protect football players without cumbersome padding and extra clothing. One such innovation has been the football girdle, whose advancements in material and design technology make the garment less inhibiting and more protective than previous versions of football undergarments.
Football Girdle Description
The football girdle is a thin sleeve of material worn under the outer shell of football pants. The traditional girdle, basically a pair of pants beneath the football pants, features stitched pockets to hold a protective cup and pads for the thighs, hips and tailbone. Once standard equipment, girdles faded from popularity as many players moved away from wearing lower-body padding in an effort to gain speed.
Girdle Benefits
Although some football players find the idea of wearing another layer of clothing too restrictive, the football girdle provides improved safety, particularly for running backs and players who receive excessive contact. The girdle's main benefit is that it keeps all padding in place, ensuring optimum protection. Without a girdle, thigh pads, hip pads and tailbone pads may shift, exposing the body to injury. New girdle designs enhance protection even further, adding extra padding at key contact points.
Special Features
Modern football girdles do more than simply provide secure pockets for padding. Manufacturers make girdles from compression material, allowing the girdle to flex and move with the body. The fabric's design often delivers improved air flow and moisture wicking to keep athletes cool and dry, while antimicrobial fibers help reduce odor. Many newer girdles also feature a series of small hexagon-shaped foam pads stitched directly into the girdle to protect the hips and tailbone; these allow for protection without the weight of a bulky external pad.
Reasons to Wear a Football Girdle
When deciding whether or not to wear a football girdle, weigh your need for comfort against your desire for protection. Some players, especially wide receivers who line up on the outside and who rarely venture over the middle, may prefer to not wear a girdle for fear of losing quickness, since they seldom take big hits to the legs. However, thanks to technology, girdles have become lighter and more comfortable, perhaps making the decision to not wear a girdle an unnecessary risk in a contact sport.
References
Writer Bio
William Lynch has been a freelance writer for the past fifteen years, working for various web sites and publications. He is currently enrolled in a Master of Arts program in writing popular fiction at Seton Hill University. He hopes to one day become a mystery novelist.