How to Find My Football Glove Size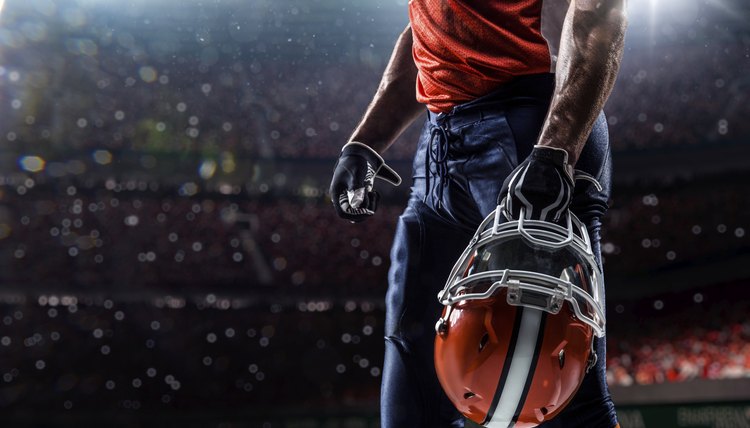 Football players wear gloves for a variety of reasons. They include improving performance, keeping the players' hands warm and preventing injury. Most football gloves come with a size ranging from small to extra-large, but to determine what size you wear can be a little tricky. Measuring your hand can help ensure that you get the proper, manufacturer-recommended glove size.
Measure your hand, from the base of your palm to the tip of your middle finger. The base of the palm is the first wrinkle or line where the wrist begins.
Record your measurement and compare it to the recommended glove size for each particular glove. According to Foot Locker, general guides have sizes from 7 inches to 7 inches as a small, 7¼ inches to 7½ inches as a medium, 7¾ to 8 inches as a large, 8 inches to 8¼ inches as an extra large, and anything above 8¼ inches as an extra extra large.
Try the gloves on if possible to make sure that you like their feel. Different brands may run smaller or larger, so seeing how they fit can help make sure that you get the right size.
Select a glove that is a size larger than your hand if you like gloves that are looser or if you are on the borderline between two sizes. Lineman football gloves have heavier padding and include wrist support, and those supports can make the glove feel bulkier, tighter and smaller. In addition, over time gloves will shrink as perspiration, water and dirt wear them out.
Tips
Lineman gloves are available in full and half-finger styles. Receiver gloves are also used by special teams players when returning kicks and punts.
Warnings
Football glove colors are determined by the league. Check the league's rules before purchasing new gloves.
References
Writer Bio
Based in Harker Heights, Texas, Timothy Onkst has been writing about sports, fitness and health since 2003. His articles have appeared in a variety of publications including "Texas Roundball" magazine, Yahoo Sports, Fox Sports and other websites.