How Long Does Glucose Last When Working Out?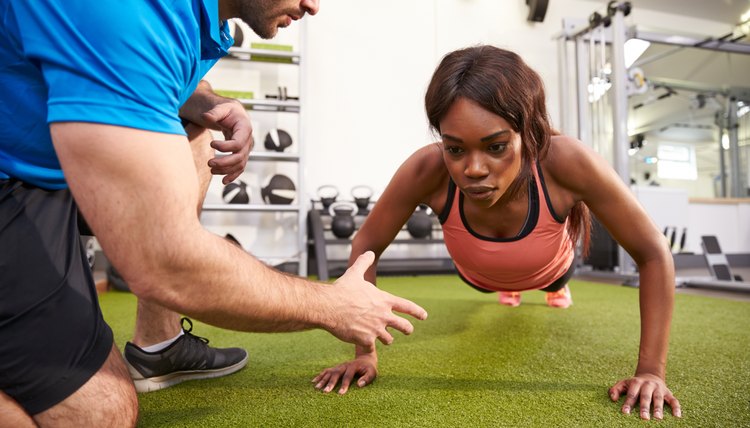 Many people limit their carbohydrate intake because they think it will cause weight gain and/or prevent weight loss. However, you need adequate amounts of carbohydrate to function properly at rest and during exercise. The body breaks down carbohydrate into glucose and can store it in the muscles and liver as glycogen. Your glycogen storage capacity affects how long and/or how intense you can exercise.
Glycogen Storage
Your body has a limited supply of glycogen available at any given time. Typically, you store approximately 300 to 400 g in your muscles and 70 to 100 g in your liver, according to the National Strength and Conditioning Association. You also have a very small amount that circulates through your blood. To translate to calories, the average 150-lb. man has about 1,800 calories worth of glycogen available for energy for normal body processes and exercise.
Glycogen and Exercise
Your body is always burning some glycogen; it is just the amount that varies. At rest, you burn primarily fat because your body can take more time to break down the fat for energy. When you are not exercising, approximately 30 percent of your energy comes from glycogen and 70 percent is provided by fat stores, and you are burning very little total calories. The percentages shift to more glycogen and less fat as the intensity of exercise increases. There is no set time that glycogen depletes. It is directly related to how long and/or how intense you exercise, according to Nancy Clark, MS, RD.
Preventing Depletion
When you deplete your glycogen levels, you may feel like you "hit the wall." This term refers to the fatigue and inability to continue exercise. If you consume a diet that is low in carbohydrate and try to exercise frequently, you will not have adequate energy for your workouts and will not see the results you desire. If you are a power or endurance athlete, consume a diet that is predominantly carbohydrate. Approximately 55 to 65 percent of your total calories should come from carbohydrate foods. After a workout, consume carbohydrates and protein within two hours to maximize recovery and glycogen storage.
Considerations
People who are well-trained or fit can store more glycogen to exercise harder and longer than those who are untrained or sedentary. A trained muscle can hold approximately 32 g of glycogen per 3.5 oz of muscle tissue, where an untrained muscle only holds 13 g of glycogen. As you exercise regularly, you notice that your endurance increases, your muscles get stronger and you can exercise more easily. Not only are your muscles, heart and lungs getting stronger, but your body is storing more glycogen to supply fuel during activity.
References
"Essentials of Strength and Conditioning"; National Strength and Conditioning Association; 2008
"Nancy Clark's Sports Nutrition Guidebook"; Nancy Clark, MS, RD; 2008
Writer Bio
Bethany Kochan began writing professionally in 2010. She has worked in fitness as a group instructor, personal trainer and fitness specialist since 1998. Kochan graduated in 2000 from Southern Illinois University with a Bachelor of Science in exercise science. She is a Certified Strength and Conditioning Specialist, Certified Personal Trainer, Medical Exercise Specialist and certified YogaFit instructor.