How Does Adrenaline Affect an Athlete's Performance?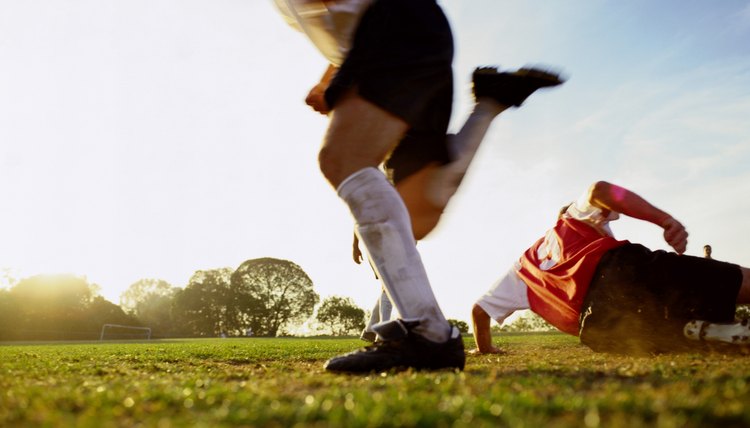 The excitement an athlete feels when participating in a sport or activity is the release of adrenalin into their circulatory system. Adrenalin, also known as epinephrine, is the body's response to stress and at one point, centuries ago, may have made the difference between life and death. Our heightened senses prepared us to either fight or flee. It was a survival instinct that can be applied to athletic activities today.
Effect
The influx of adrenal surge is a welcomed effect when an athlete is about to do battle in the sporting arena. There's an increase of energy sent to the muscles and the muscles response is to boost their ability to react. There's an enhanced alertness brought about by an arousal of the central nervous system. The body begins to sweat more, in preparation to cool the muscles and the pupils dilate in an effort to take in more of the surroundings. The athlete is now ready.
Heart
When adrenalin is released into the bloodstream, it invariably finds its way to the heart. The heart, upon feeling the increase in adrenalin, immediately boosts the rate and strength of its beating. The result is an increase in blood pressure, which, in turn, allows for an increase in respiratory exchange, making more oxygen available for the working muscles. The more oxygen available, the better the performance.
Negative Effects
The rush of adrenalin into the working muscles has a positive effect on athletic performance. Unfortunately, if the athlete isn't able to control this hormonal flow, it could have negative effects on overall health. The production of adrenalin is designed as a survival technique, but far too often the stress hormones are called into action at inappropriate times. If this happens more frequently then it should, the result is a suppressed immune system and a propensity toward a resistance of infections.
Competition
The athlete that is more able to direct their energy properly, is usually the athlete that experiences victory. It's not enough to feel the adrenalin surging through your body -- it's equally important to control the adrenal response in such a way that produces the best results. The most effective way of focusing is to place yourself in a similar scenario as often as possible. This is called training and it is an essential component of the athletic experience.
References
"Fitness and Health"; Brian Sharkey; 2002
"Human Physiology"; Lauralee Sherwood; 2004
"Principles of Biochemistry"; David Nelson and Michael Cox; 2000
Writer Bio
Mike Cottrill has been writing professionally since 1995. He has written for periodicals including "The Cambridge Times" and "Woman's World." Cottrill's first novel, "To Kill By Mourning," was published in 2004. He studied journalism at Conestoga College in Kitchener, Ontario and holds a Bachelor of Arts in sociology and physical education from York University in Toronto.