The Effects of Gymnastics on Children's Growth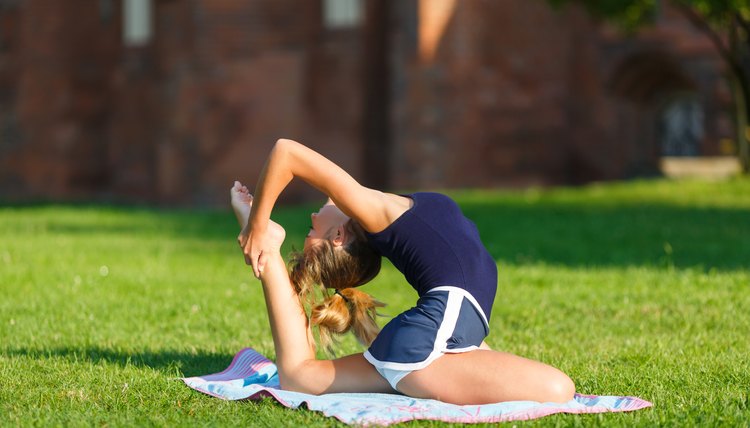 The intense workouts associated with competitive gymnastics provide a great source of physical exercise and encourage disciple as well as time-management skills. Gymnastics can be very demanding on competitive athletes, however, and several studies indicate that this sport can impact your child's growth. Recreational gymnasts who spend only couple of hours per week in the gym won't experience these effects on their growth.
Types of Gymnastics
There are primarily two types of gymnastics, artistic gymnastics and rhythmic gymnastics. Female artistic gymnasts compete on several different apparatuses, including the vault, uneven bars, balance beam and floor. Male artistic gymnasts compete on the vault, pommel horse, still rings, parallel bars, high bar and floor. Rhythmic gymnastics does not involve the same equipment as artistic gymnastics. Instead, rhythmic gymnasts use dance, creative movement and a variety of props to perform a choreographed routine. Props used by rhythmic gymnasts include rope, hoops, balls, clubs and ribbon.
Gymnastics and Growth
According to a study published in "The Journal of Clinical Endocrinology & Metabolism" in 2004, the impact of stress and physical training on growth is influenced by many factors, including the type of exercise, the intensity of the training and the time in life that the physical activity begins. Competitive gymnasts spend an extreme amount of time training, usually between 26 and 28 hours each week. For many gymnasts, the time spent competing coincides with puberty. The 2004 study showed that the intense physical training of gymnastics can impact the musculoskeletal growth and maturation that is supposed to occur during this time.
Artistic Gymnastics Affects Growth
The study published in "The Journal of Clinical Endocrinology & Metabolism" in 2004 evaluated growth and skeletal maturation in male and female artistic gymnasts between the ages of 13 and 23. Results showed that both male and female artistic gymnasts were shorter and slimmer than their non-gymnast counterparts. These athletes exhibited a significant delay in skeletal maturation, as well. The growth delay observed in this study was also more pronounced in males than in females. These gymnasts did exhibit catch-up growth, however, once their gymnastics careers ended.
Impact of Rhythmic Gymnastics on Growth
Studies have also focused on evaluating the influence of rhythmic gymnastics training on childrens' growth. For example, a study published in "The Journal of Clinical Endocrinology & Metabolism" in 1999 evaluated 255 female rhythmic gymnasts from 11 to 23 years old during the 13th European Championships. The researchers analyzed skeletal growth and sexual development in these elite athletes. They observed that these rhythmic gymnasts had a significant delay in both skeletal and pubertal maturation. The study notes, however, that the final adult height of these athletes was not expected to be affected by their participation in gymnastics.
References
Writer Bio
Megan Doyle is a scientist, researcher and writer. She has a bachelor's degree in chemical engineering from the University of Texas and began writing professionally after receiving a Ph.D. in biomedical engineering from the University of Virginia.