Types of Football Running Backs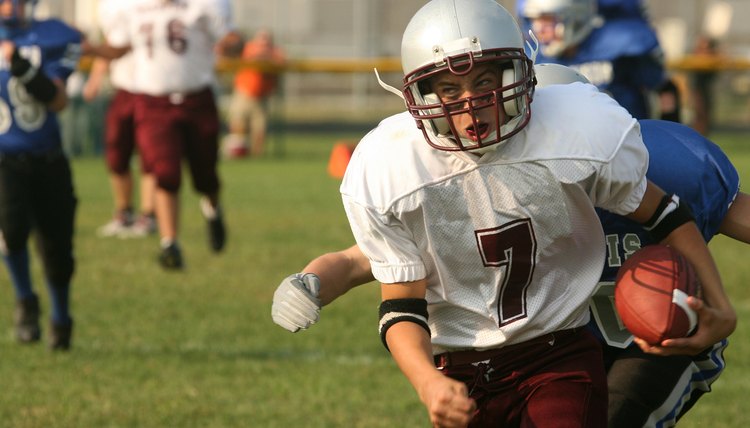 When a team builds a running attack, it can do so with a variety of types of backs. A running back can use his strength and bulk to overpower the defense. A running back can use his speed and quickness to make big plays and key yards. A coach might favor one style over the other and choose running backs that fit that style -- or he might want a roster with backs to cover various situations.
Power Back
A power back is a back that uses his size and strength to run between the tackles and make crucial yards. A power back will almost always run between the tackles and is considered a "north-south" runner. Coaches don't usually expect power backs to have long runs, but they are valuable on third downs when a team needs 3 yards or less for a first down. A power back uses his strength to punish tacklers and push them backward. When a team uses a power back early in the game, his punishing style can weaken the defense in the second half and allow the offense to eat up the clock and gain important yards. Hall of Famers Jim Brown and Larry Csonka are examples of power backs.
Speed Back
A speed back has the ability to make long runs consistently. A speed back might be the fastest player on the field. If a speed back can get one or two effective blocks before getting to the perimeter of the defense, he can use his speed to run by potential tacklers and make game-breaking plays. Hall of Famers Barry Sanders and Gale Sayers are examples of two of the most effective speed backs in football history.
All-Purpose Backs
An all-purpose back can run between the tackles, run to the outside, block, pass and catch the football. Some all-purpose backs can touch the ball on 60 percent to 70 percent of the offensive snaps in a game. All-purpose backs are extremely valuable and rare because they have so many skills and can help their team in so many ways. It all starts with running the football, but they can be just as valuable in any of the other areas. Hall of Famer Walter Payton was an all-purpose back who many consider to be the best ever at his position. Emmitt Smith is another Hall of Famer who excelled in all these categories.
Blocking Backs
Blocking backs help open holes for the ball carrier. They also help protect the quarterback when he drops back to pass. Blocking backs are among the biggest and toughest players in the sport. They must use their physical strength to dominate the opponent. They can carry the ball on occasion but their main job is to block. Some of the top blocking backs include Jim Taylor, Tom Rathman, Bronko Nagurski and John Henry Johnson.
References
Inside the Helmet; Peter King
Play Football the NFL Way; Tom Bass; 1991
Writer Bio
Steve Silverman is an award-winning writer, covering sports since 1980. Silverman authored The Minnesota Vikings: The Good, The Bad and The Ugly and Who's Better, Who's Best in Football -- The Top 60 Players of All-Time, among others, and placed in the Pro Football Writers of America awards three times. Silverman holds a Master of Science in journalism from the Medill School of Journalism.