24 Hour Fitness Vs. Life Time Fitness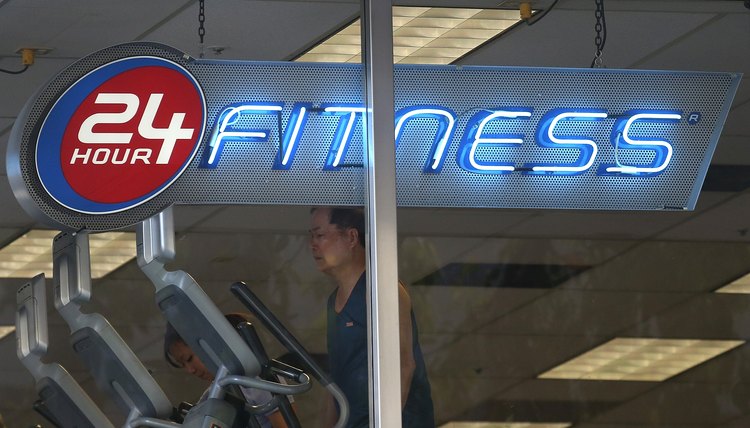 Choosing a gym that fits your needs in terms of price, location and amenities can be an asset when pursuing your fitness goals. Fitness industry organizations 24 Hour Fitness, established in the early 1980s, and Life Time Fitness, which followed a decade later, maintain an atmosphere of health, wellness and fitness. Comparing the two chains can help you to pick your best fit.
Similarities
24 Hour Fitness and Life Time Fitness both provide the tools and equipment for getting into shape, losing weight, improving your health and achieving your goals, whether that be to run a marathon or enhance your performance in a particular sport. Strength training machines, free weights, cardiovascular equipment and group fitness classes can be found at either gym. Personal training is also offered, usually for an additional cost, at both chains.
Differences
As of early 2014, 24 Hour Fitness has more than 400 locations, while Life Time Fitness maintains 105 centers in the U.S. Where you live may determine which gym is better for you. Both chains offer gyms on the East Coast and in the Midwest. 24 Hour Fitness, based in San Ramon, California, dominates the West Coast, especially California. The clubs owned by Life Time Fitness, with headquarters in Brooklyn Park, Minnesota, offer a resort-like atmosphere with day spas, salons, organic cafes and nutrition counseling.
Pricing
The prices for both chains can vary widely and are dependent on location and promotional offers; check the clubs in your area for details on initiation and membership fees.
References
Writer Bio
Beth Rifkin has been writing health- and fitness-related articles since 2005. Her bylines include "Tennis Life," "Ms. Fitness," "Triathlon Magazine," "Inside Tennis" and others. She holds a Bachelor of Business Administration from Temple University.