Are There Disadvantages of Girls and Boys Playing Together in Sports?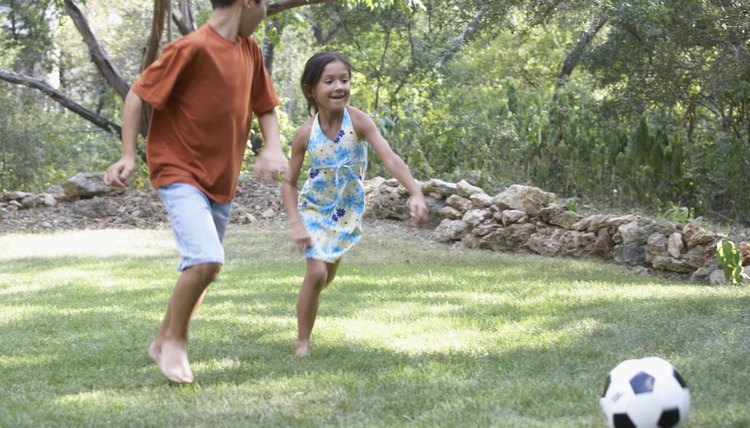 Participating in sports encourages physical activity, improves mental health and teaches teamwork. But, some people might think gender-segregated sports teams send the wrong message to kids by keeping boys and girls separate. However, coed sports teams present a number of challenges for the kids and coaches alike, and those should be seriously considered before merging male and female athletes onto the same team.
Skill Level
Sports teams are often divided by age, weight or skill level, depending on the league. High schools will have varsity and junior varsity teams to distinguish skill level, and community recreation teams usually divide players up by age. Boys and girls of the same age likely have different skill levels. Boys are usually taller and stronger than girls, which can give them an advantage on the playing field. If girls are on the same team as them, they might not perform as well as they could on an all-girls team, where they would be up against players with a similar skill set.
Comfort
Boys and girls might be more comfortable playing sports with the same sex. Boys might fear being too aggressive with girls on the playing field. From a social perspective, they might fear failing in front of girls who they like socially. Girls, on the other hand, might be more timid when playing with boys, which might inhibit their athletic skills. They might feel more supported by an all-girls team than a coed one.
Motivation
Coaches can face challenges when leading a coed sports team. Although every player might respond to different motivations, coaches can find general ways to motivate teams of boys or teams of girls. Motivating a team of boys and girls, who inherently might have different reasons for playing or factors that motivate them, can be particularly challenging. Finding a gender-neutral way to coach and motivate a team is a disadvantage of coed sports.
Logistics
Logistically, coed sports teams present a few challenges. While coaches can overcome these logistical challenges, the effort might not be worth it when all of the disadvantages of coed teams are considered. Boys and girls often wear different styles and cuts of uniforms, doubling the effort that teams have to make when selecting uniforms. When teams retreat to the locker room at halftime, boys and girls will go to separate rooms, making it difficult for a halftime speech from the coach to prepare athletes for the rest of the game.
References
Writer Bio
Barbie Carpenter worked as a technical writer and editor in the defense industry for six years. She also served as a newspaper feature page editor and nationally syndicated columnist for the Hearst Corp. Carpenter holds a Bachelor of Science in journalism from the University of Florida and a graduate certificate in professional writing from the University of Central Florida.