Does Participation in Sports Negatively Affect Academics?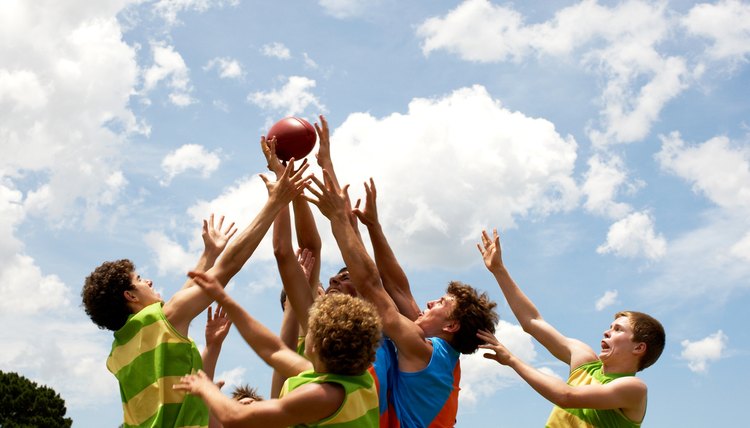 Student athletes should be relieved to learn that, according to researchers at the Brown Center on Education Policy, a commitment to school sports does not have to translate into compromised academic performance. Although these students often feel substantial pressure to perform both on the field and in the classroom, the benefits of athletic endeavors seem to counterbalance the challenges they present. Nevertheless, many youth athletes become increasingly stressed as they strive to maintain academic eligibility while advancing through their school years.
Time Management
In a 2005 analysis of stress levels in college athletes, Dr. Gregory Wilson and Dr. Mary Pritchard reported that time management factors were a significant source of academic-related stress. Many student athletes expressed concern over having insufficient time to study for exams and write term papers. Team travel was also cited as a stress factor because of missed classes and assignments.
Some student athletes, however, seem to thrive on the pressure caused by tight schedules. During her senior year at Bowdoin College in Brunswick, Maine, field hockey player Leah Ferenc reflected on the role athletics play in academic achievement. "Most of my peers believe that they perform at a higher academic level while participating in their sport and have felt more organized and motivated during their seasons to do well academically. I am more successful at completing my assignments during the season, because I know that I only have a certain amount of time to do so."
Cognitive Function
Children and adolescents who pursue sports activities have been shown to exhibit more active brain function, better concentration levels and classroom behavior and higher self-esteem than their less-active counterparts. Understandably, all of these factors seem to support better academic performance. In 2002, the California Department of Education examined whether any correlation existed between standardized test scores and results from a state-mandated physical fitness exam. In its analysis of data from over 954,000 fifth, seventh and ninth grade students, the study found that students with higher levels of fitness performed better in school. Students who met three or more physical fitness standards experienced the greatest academic gains.
Socioeconomic Differences
In a 2002 Brown Center report on American school performance, schools with top-ranked baseball, basketball and football teams were found to have better state achievement exam scores than those with less successful sports programs. Not surprisingly, public schools with both successful athletic teams and high academic achievement are found in areas with better financial resources: wealthy, suburban neighborhoods with predominantly white, non-Hispanic populations. According to the report, such advantaged schools are better able to integrate excellence at sports into a broader culture that encourages achievement.
Gender Differences
Academic performance in student athletes does vary between boys and girls. Results of the California Department of Education study showed that all of the girls' teams had significantly higher grade point averages than their male counterparts. A 2010 study published in "The Sports Journal" reinforced these findings and showed some interesting between-sport comparisons. Boys on the cross-country team had among the lowest grades of all the sports examined, but girls' cross-country teams had among the highest. Male students on the golf and track teams were able to maintain high grades but girls committed to these two sports fared worse academically.
Writer Bio
Laura Altobelli is a full-time senior editor for GSW Worldwide, an advertising agency serving the pharmaceutical industry. With a master's degree in scientific communication and more than 20 years of professional experience, Altobelli has worked with physicians, lawyers, veterinarians and architects to develop content for professional symposia and such publications as "Annals of Internal Medicine," "Journal of Trauma" and "Clinical Infectious Diseases."