The Effect of Sports on Teenagers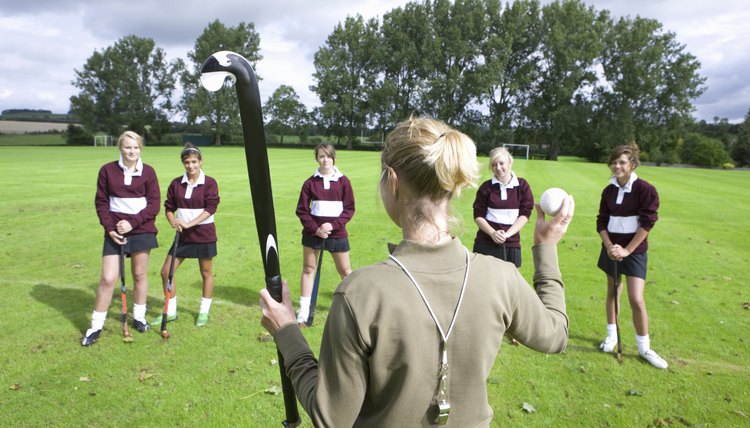 Sports help teenagers live a more active life -- thus reducing their risk of obesity, diabetes and other serious health complications – and athletics affect teens mentally, socially and psychologically. According to a 2010 West Virginia University study published in "Applied Research in Quality of Life," teenagers who play sports are happier, feel healthier and are more fulfilled by life.
Weight Control
More than 30 percent of American teens are overweight or at risk of being overweight, according to the Centers for Disease Control and Prevention. Overweight teenagers may face a greater risk of developing health complications including diabetes and asthma, along with mental health ailments including depression and anxiety. Playing a sport helps teenagers maintain a healthier weight and boosts their cardiovascular system, lowers their blood pressure, improves their mood and helps them make healthier choices in life.
Self-Esteem Boost
The Women's Sports Foundation reported in 2004 that sports help teen girls to perform well in school, develop a positive self-image and reduce their risk of developing an eating disorder. Because of this greater physical awareness, sports participation can reduce sexual risk in teen girls, including everything from teen pregnancy to abusing drugs or alcohol before sex. Resulting behaviors include an increased use of condoms and fewer sexual partners.
Learn Life Skills
Playing a sport teaches teenagers many valuable life skills including leadership, the value of teamwork and cooperation. Athletic teens also learn how to handle stress and pressure, set goals and work hard to reach a goal. Playing a sport allows teenagers to build relationships with their coaches and peers. All of these experiences will help teenagers learn how to work with others as well as become easy to work with later in life, whether it's at home, at school or on the job.
Other Considerations
Though sports participation may decrease risky behaviors in females, athletic males may have an increased risk of drinking, violence and abusing drugs. A 2009 study presented at the American Public Health Association's 137th Meeting and Exposition noted a correlation between teenage male athletes and risky behavior. Teen boys whose reputations are based on athletic ability, and those who receive preferential treatment, are particularly at risk. The study noted the importance of supporting teenage athletes yet cautioned against raising them to icon status.
References
Writer Bio
Susan Diranian is a writer for various online publications and magazines, specializing in relationships, health, fashion, beauty and fitness. She holds a Bachelor of Arts in English with a concentration in nonfiction writing and editing.